Improve Your Website Presence!
The first step to improve your website presence begins from the first day you start a website.
It is not just a process you want to do later, when the free website traffic fails you.
In fact, when you prepare for the improvement from the start, you will never need to do any effort later to improve your site presence.
This is of course something you should have with the includes of your website building tools. If you don't have such includes, then you are seriously suffering from lacking incomplete tools.
There is a question here, though.
How to prepare to improve your website presence from the start?
This is because, when people get the word improve, what sticks in their mind is that there is something not working and they want to improve it. The word indicates this. Despite this, I insist, that is not 100% true.
But, before getting further to improve your website presence, I should say that this page is a continuation to the answer at how to improve your website presence, here. However, here is only my personal take on this, which I realized through many personal experiences and experiments.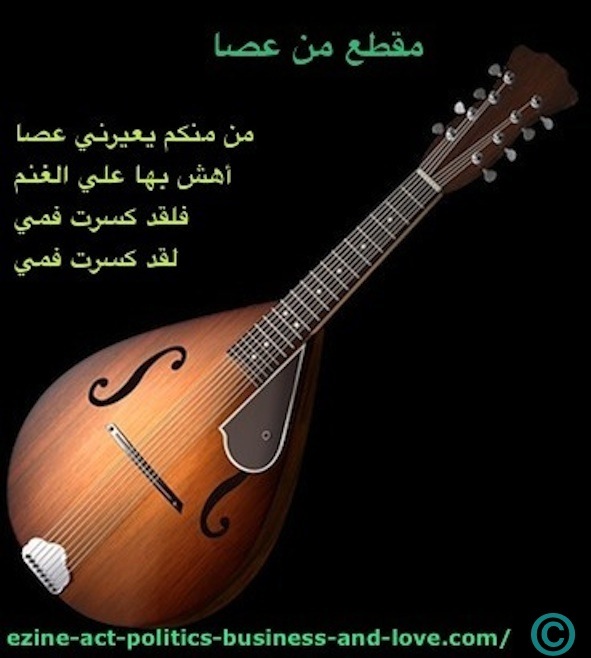 Improve Your Site Presence: by using pictures with textual content, like this. A Stick, Arabic poetry by poet, writer and journalist Khalid Osman.
Easy Catching Steps to Improve Your Website Presence!
You need to start learning from free resources and from other experiences and other people's mistakes to avoid failures.
The first time I built this website – home-biz-trends.com, I missed a very important fact and that was to concentrate on my Unique Pre-selling Proposition (UPP).
Well, it is actually called the Valuable Pre-selling Proposition (VPP). That is important formula, small home businesses should use to succeed online.
I have missed this concept so it does not appear in my domain. It was too late to change the domain, so I carried with it and changed its topic so many times until I came lately to realize that I should work it in a different way.
That was my mistake. So, do not move in a hurry to build a nonsense domain like this one. The domain name is useless, although you can find good information on this website. it doesn't have any specific search term criterion.
All along the way, I came to know how this UPP is very important to build a keyword focused content out of my hobby, or passion, as a  small business and keep it automated frequently.
One of the narrow niches I have chosen then was from my own political experiences to build the HOA Political Scene and the 100 Beautiful Sites in the World, which I have given to my daughter.
I used the same knowledge to build web pages on small niches in other keyword focused websites under the bridge (in the schedule). I in fact have 10 of those small niches reserved in ten domains in my plans and I have given one lately to my daughter to continue building iwatchbestv.com.
Therefore, it is important to study your theme before building it and to get to the right UPP or VPP through which you get into your potential prospect's mind and heart.
They are primary and urgent requirements for building well and great focused business on a niche, you know about, or enjoy doing online. But, you will absolutely need to follow the CTPM process. That is the only way to improve your website presence and bring in good volume of free websites traffic.
At this stage, when you complete building the home based business of your choice, starting from the Choose It process and ending with the CTPM process, you could use your personal experiences to automate your content.
Your personal experiences could also provide the base to build automated content and keep it well-focused to get the desired search engines top placement.
However, to improve your website presence through that UPP or VPP, there is full information included on this page within the content and at the right column.
It could help you the way it helps me come with many keywords focused and content websites on niches that drive traffic guided by the optimization process I acquired with those websites.
From that point on, the Action Guide leads me every time I need it to push on the successful way using the all in one place tools I mentioned at about SBI and learning form them the best optimization, I wrote about at the Ezine Acts Optimization.
The combined all in one place tools I use teach me how to optimizing a website and lead me through the way of the technical gears while building my website systematically.
They show me how to construct good websites that appear in the first ten pages of the search results and drive free traffic. Perhaps, they lead you or any other interested person to do that job right.
You may ask me why you need SBI tools. You may ask also, what are the differences if you chose to build a free website or just wanted to build a website using other website building tools?
Yes, you can build a free website of course on other free spaces, like blogger, wordpress, and others on so many servers online today. But, do they teach you how to improve your website presence? I have more than 30 on Blogger, for example.
I have built them on narrow niches, such as Afro Journal, Personal Skills, Distinguished Carisma, Wise Biz, Content Master, Sudanese Poets and Quotes and Insights.
But, as sub-domains, they do not compare with the original domains I have here.
In addition, I have more than 60 lenses/WebPages I built using Squidoo.com. They dropped now to reach 40 lenses.
But, they also do not compare with the right tools I use to build original businesses here using original domains. At such services, they don't teach you how to improve your website presence.
Nothing there makes good income, but only fractions that have never been something to count. In addition, you have not great control to use your efforts to improve your living, or to stand out of the crowd with domains that you own.
Well, this is only to mention how important a narrow niche is and how Site Build It tools led me all the way to come with many narrow niches.
I can continue this way to no end. That means, the open horizon is always available with my Site Build It tools. Most importantly, I learned from the data base SBI has so many methods including answers to the following how to questions: how to improve your website presence, how to convert traffic into sales and how to improve keyword density using your affiliates.
According to my experiences I advice you not to do what I had done wrong. You need those tools I mentioned above to improve your website presence, save you time and get you in the right run analyzing the entire web for you and direct you to succeed in choosing your UPP.
I used free websites, such like gateways since 2001 until now. Those gateways generate prospect leads and free traffic to the main programs I worked with them in the Multi Level Marketing schemes (MLM). However, the prospects are well shared prospects.
It is difficult to keep in more progress through those servers, since there are tens of millions of those gateway and leading pages. So, why bother, why share your prospect leads, and get them bombarded by other offers while you can keep them private?
This is one fact. In the other hand, I have not made that good income from those gateways. Therefore, I chose to change some of these free website building ideas to paid website services to improve my website presence.
You can of course choose to build your website using other paid services. However, the results will be very different and that is exactly what I really want you to know to improve your website presence and get your site the high valued traffic it should drive.
Why the results will be different?
The results, and let us put them as your site mechanisms, which mean: your site content, delivery, speeds, optimizations, presence and all of these things are at great risks on free services or even many of other paid services.
This is because they are putting the horse behind the carriage there! You pay your money to get a website there.
But, what after that?
How you get visitors to your website?
They do not care.
You feel you are left on your own. Here comes the difference with the tools I am using. I learn from them while building my business, everything I need to build content that potential prospects and  search engines love.
The insights include the best ways to feature your business, including free press releases and free publicity, search engines marketing, search engines secrets, other search tutorials and some useful website services.
They build you there websites for the money in which the money comes first. While in Site Build It we learn to put the horse on its place and build web pages with focused content on a niche packed with information people are looking for on the internet.
The true simple fact, you need to succeed, as you can see goes in and out through the following success stories.
Important Note: I have good sources to many products in the SBI Sphere of Influence behind some images here on "improve your website presence".
To read them in descriptions hover your mouse over the images. To read them full click them on the head to open that brain for your pleasure only. You learn from this method and when you use the tools I am using, you learn how to treat images as content too and how to optimize images and monetize your pages.
In addition to improve your website presence, you may also be interested in the articles on the Ezine Acts Home Business (site map 1 A), the Ezine Acts Internet Marketing (site map 20), the Free Website Traffic (site map 5) and Site Build It (site map 22).
Bulletin Boards| Classified Ads| Communities Marketing| Discount Cards| Ezine Acts Advertising| Ezine Acts Business Publicity| Ezine Acts Link Building Strategies| Ezine Acts Link Exchange| Ezine Acts Traffic Converter| Ezine Media Advertising| Free Online Business Advertisement| Free Radio Advertising| Guaranteed 1000000 Hits to Your Website| Search by Name| Use Yandex and Baidu Searches| Value Exchange| Yandex Search Engine|
Share "improve your weskit presence" with your socials and the other services you see on the small buttons on the page. Pin one of the Ezine Acts Pictures on this page, or at the Ezine Acts Art Links, Ezine Acts Art and Culture, Ezine Acts Articles, Ezine Acts Fine Arts, Ezine Acts Galleries, Ezine Acts Photo Gallery and Pictures for Your Website. Thanks.
The Solo Build It website building, automating, monetizing and optimizing tools on the image below are all combined in one place to help your learn and build a business website, improve your website presence and even produce some digital and video products to maintain that business.
They empower the Ezine Act's Network and the entire of Khalid Osmans Network and update it at the Ezine Act Blog.

---
Blogging for Pleasure
|
Business Strategies Cat.
|
Collective Consulting Services
|
Comments
|
Email Marketing Media
|
Ezine Act Articles Index
|
Ezine Acts Articles Section
|
Ezine Acts Associate Programs
|
Ezine Acts Biz Marketing
|
Ezine Acts Business
|
Ezine Acts Business Financing
|
Ezine Acts Business Forums
|
Ezine Acts Comment C2 Entries
|
Ezine Acts Comments
|
Ezine Acts Discussion Board
|
Ezine Acts Forums
|
Ezine Acts Game Site
|
Ezine Acts Humanitarian Network
|
Ezine Acts Inspirational Articles
|
Ezine Acts Inspirational Sites
|
Ezine Acts Literature
|
Ezine Acts Love Commentaries
|
Ezine Acts Love Entries
|
Ezine Acts Love Stories
|
Ezine Acts Motivational Articles
|
Ezine Acts Motivational Sites
|
Ezine Acts Newsletters
|
Ezine Acts Offline Businesses
|
Ezine Acts Political Section
|
Ezine Acts Sentimental Stories
|
Ezine Acts Web Security
|
Ezine Acts Website Maps
|
Ezine Arabic Articles
|
Ezine Articles
|
Ezines Site Maps
|
French Paintings
|
Inspirations and Motivations
|
Love
|
Love Consulting Services
|
Online Free Consulting
|
SBI Discussion Board
|
Small Business Consultancy
|
Submit Articles
|
Submit Ezine Articles
|
WBM
|
Wise Biz Marketing
|
Wise Biz Newsletter
|
Zines Commentaries
|
© All rights reserved. HOME-BIZ-TRENDS.COM is one of Khalid Mohammed Osman's Networks.