Best Ways to Feature Your Business!
by Admin
The best ways to feature your business in many reassures are limited only by your imagination. There are in fact tons of resources, both free and paid to use to expose your business.

The best ways to attract websites traffic are here on this page. The rest of the best ways to attract free traffic are below.

# Use TVs, radio stations, newspapers and magazines:

The media is one of the potential resources. Therefore, it has the best ways to feature your business. So, it is very important to start building some social or work relations with some journalists and other staffs in the media in your location. Social relations with people in the media brings you to the minds of those people.

Try always to be creative and even entice them by new ideas to use while writing or producing something for their media. They will become friends and then you will get the attention needed to use to feature your business on many media sources.

In addition, study how to write free press releases about your business and set up a time table to submit those press releases to your friends in the media and they help you get published in their newsletters and magazines, or featured in their TVs and radio stations.

Wake up happy every day by preparing and using a next day plan you wrote yesterday. Include what to do with the media in this plan and how to write effective press release. There are in fact many ways to write effective press releases and get free publicity for your business or organization, all of which are included here in this useful resource.

# Use clubs, associations, unions, sport and aerobics, other gatherings and even bars, pizza and take away in your area:

There are many opportunities in those social areas. They open the door for you to see the best ways to feature your business. You may need to be a member in one of these social groups. Talk about what you do every day.

Tell stories you have come through while doing your business. You may also have some persuading success stories to tell your friends and fellows about. I mentioned how to use your cards on these locations in the link above.

One way or another, you will get your business the attention it deserves and your fellow will flock to your website. If I were you, I will build some pages for my offline activities to track them well using good all-in-one place tools to do that. It is necessary to print some cards with the addresses of these pages included below your name.

# Use your supermarkets' announcement boards:

There are many announcement boards in many supermarkets in your area to help customers announce something they want to sell, rent, or offer free to take away properties and free some areas from unused accommodations. Read these announcements to discover the best ways to feature your business.

Se up a schedule to do the following frequently: Write some lines about the very interesting thing you offer and support your papers by some beautiful designs or images and fix them on these boards.

# Use cars and think of other ways to use bumper stickers:

You can use your car or your friends' cars to get your business out to people. You may have seen many announcements on some cars and trucks. Think of the best ways to feature your business using those cars.

You have seen also some bumper stickers on some cars. Since messages on the bumper stickers are very short, think of ways to get your business written on them. Think of ways to add short websites addresses, such as bitly.com.

You don't need to include the "www" or the "http" here. Read more about bumper stickers at Biz Marketing 68. It is good idea to read the newsletters' site maps, as they highlight the best ways to feature your business online and offline more.

# Use tarvellers or passengers' waiting halls:

There are many travelers and passengers' waiting halls in your area. You can use those areas to hang some good written and well designed announcements for your business. Think of interesting things that people enjoy and write them in a way to grab the readers' attention.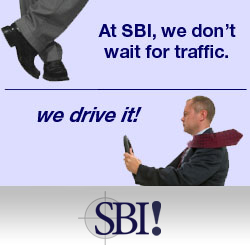 Relevant Resources to Discover the Best Ways to Feature Your Business:

# I Need a Killer Press Release! Now What? PR Guide.

* You are at the Best Ways to Feature Your Business

* Read the entry at Ezine Acts Forums.

* Free traffic builders at About Me| About SBI| Arabic SBI| Choose It| CTPM| e-Learning College| Ezine Acts Optimization| Optimizing a Website| SBI Discussion Board| SBI eLearning| Start Learning from Free Resources| Things Interest You|

* Free publicity at: Ad Sheets| Classified Ads| Ezine Acts Advertising| Ezine Acts Business Publicity| Free Advertising| Free Online Business Advertisement| Free Publicity| Free Radio Advertising| Write Compelling Advertisement|

* Search Engines articles at: Ezine Acts Link Building Strategies| Ezine Acts Link Exchange| Free Website Traffic| Guaranteed 1,000,000 Hits to Your Website| How to Convert Traffic Into Sales?| How To Improve Keyword Density Using Your Affiliates?| How to Improve Your Website Presence?| Improve Your Website Presence| Search Engines| Search Engines Marketing| Search Engines Secrets| Search Engines Top Placement| Search Tutorial| Use Yandex and Baidu Searches| Yandex Search Engine|

* Read more best ways to feature your business and share the page with your social media.
Join in and write your own page! It's easy to do. How? Simply click here to return to Share Your Opinions and Build Your Own Page Here!.
© All rights reserved. HOME-BIZ-TRENDS.COM is one of Khalid Mohammed Osman's Networks.