Political Consulting Services!
What are the political consulting services about?
Well, first of all you could possibly get some ideas about rational politics with the specific criteria of political rationality included to conduct and implement to avoid making the wrong decision and even resolve harsh political situations.
The insights included on the page and the revenant linked pages get you through the topic smoothly to know more about it in details on the linked pages.
This page, however, continues the political consulting services published at the online political consulting services. If you did not read the first page, please read it and then link to the political consulting page.
However, the services we offer on this page is connected with a network we run at the consulting you see on the Contact Us link below to get you covered on the political consultation, as specified on the first linked page above.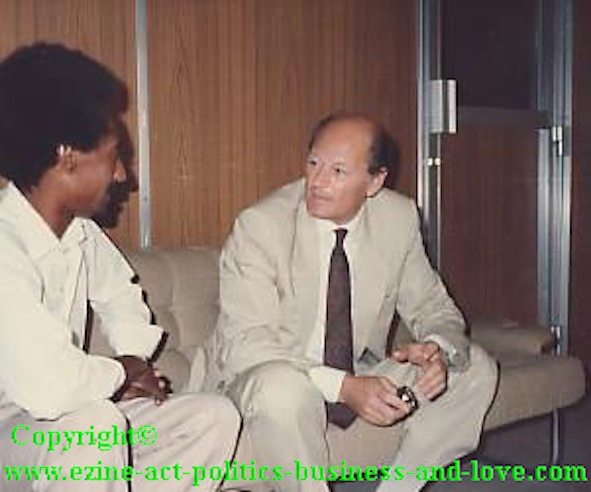 Political Consulting Services: Engagement with political and humanitarian issues since the eightieth. Journalist Khalid Osman interviewing the UNHCR's Representative in Khartoum, Sudan.
Being on the political chair has always been a problem for leaders, and even leaders of some revolutions to see the problems rationally. Every one of them has missed the right methods and simply doesn't know how to be a leader to lead rational politics.
I have evidences of some revolutions that have converted not only their agendas, but also their allies when they reached the power.
There are always some solutions to such political situations. Of course, if politics is all about the mass and not about snatching the political chair and be the only authority in charge.
In addition, I have political personal experiences that I have acquired through my political engagements with some political systems and revolutionary groups there, during the two last decades of the 20th century.
I have not done any political consulting ONLINE that time. All my works were offline and some authorities had been chasing me for some years.
I have also written political appeals and papers on problems management and political problems solutions to some authorities. I wrote even pleas defending a revolutionary system that time to be read in the African Union (AU), when it was called at that time the Organization of African Unity (OAU).
See some of my journalism experiences in pictures here. Among them are pictures of my concerns about political refugees, children and other humanitarian issues. See also the Eritrean political scene here.
This section of the online political consulting services highlights the arena of the fundamental Human Rights. It works fine when you understand the basics, which are also included from within the Ezine Acts Political Section.
These are issues pertinent to any political consulting services. In addition, of course this could possibly be a new topic in all the political consulting services and the political categories on the Internet, as explained at the Collective Consulting Services.
Political Consulting Services Insider!
Free Consultation Services in Politics:
You can request free consulting services including political consulting services in the following situations:
You feel that your fundamental human rights are violated.
You think your government is not tolerance and is more abusive.
You live in fear because your political system is totalitarian!
You're a refugee who feels or believes that the asylum laws are getting fierce, as I wrote at refugees.
You think that any of the fundamental human rights below are violated.
Of course, human rights are fundamental, as you see on the political consulting services and at the Ezine Acts Humanitarian Network. They include human rights in so many fields. They're not only political.
Regarding the online political consulting, grassroots human rights developers, professional analysts have always their political trends, to individually consulting you in what matters.
They rarely do political consulting jobs online as a business. They do have their ethical reasons, since it's a humanitarian issue. We're going into this trend too, to offer online political consulting services, so no one will ever pay for these political consultation services on this website.
Here below are the fundamental human rights you should take care of while thinking of political consultation services:
Rights to live.
Rights to work.
Rights to Love.
Rights to pray.
Rights to speech.
Rights to preach.
Rights to shelter.
Rights to justice.
Rights to equality.
Rights to Franchise.
Rights to gatherings.
Rights to rent, or own a house.
Rights to health care services.
Rights to education and career.
Rights to protect your properties.
Rights to Marketing and franchises.
Rights to eat and drink whatever you want.
Rights to choose whatever is good for you.
Rights to entertainment, move, travel and to enjoy your time.
Those fundamental human rights indicate the measures you do have in common within your community/society to your self-security, peace of mind and soul.
If you missed under any circumstances any of those fundamental human rights, then one of your human rights are violated.
Those are the fundamental human rights, everybody should struggle to obtain and protect using democratic means, individually or through an organizational network.
More Highlights on the Political Consulting Services!
Rights to speech:
Those rights include but not limited to:
Rights to publish or own a publication firm. Those rights include rights to express your point of view in any human, political, economical, social and cultural issue. See the Ezine Acts Publishing and how to publish a newsletter.
Rights to gatherings:
Those are rights to conference, orientation and public speech. Online, you have rights to online conferences, wether in forums, as you see at the Ezine Acts Forums, or any other catting rooms you use for conferences. Those rights include but not limited to:
Rights to franchise and vote.
Rights to establish, build and organize political bodies/parties, trade unions, associations or any kind of a political frame-work, as you read on the political consulting services.
Rights to work:
Those rights include but not limited to:
Rights to search for the convenient job in any district, province or even abroad. When anybody gets into work then he should get more rights that should be associated and specified already in the work agreement in connection with that kind of work.
The rights here include also rights to organize and construct trade unions to defend the rights of the employees. For example: rights to pension, rights to industrial security and insurance, rights to overtime, rights to medical care and rights to express ones-self.
Rights to shelter:
Those are rights to be secured for any individual who's stuck politically. A person could possibly be stuck when any of the above said fundamental rights violated or abused.
Then the International Human Rights Organizations should secure those "rights to shelter". The main International Organization that's responsible about this mission is the United Nations High Commissioner of Political Refugees (UNHCR).
Those rights are included in the categories above.
With this preamble in our online political consulting services in mind, it's very clear that I'm not going to touch the moon;-) even though we're aiming to the sky;-) or bring some magic to solve your political problems.
I do have practical methods and means, that will lead you all the way, to solve that special political problem, you may or do encounter in your daily life.
There's no "touch the moon" here honey;-) because the political consulting services have a reason... to build an online friendship base.
This is why I am giving Online FREE Consulting Services. It's the best FREE STUFF I have here to make this friendship prosper along the way… your way to political freedom, peace of mind and soul, personal happiness and personal success.
Just knock on our door to request online free consulting in politics, or whatever; you need not to shout for me because I am very near to the entrance ;-) here to enjoy doing political consulting services with you.
Enjoy the humor and request my political consulting services using the contact us form. Please also see the small business consultancy  and consulting question for other consulting services.
In addition to the Political Consulting Services, you may also be interested in the other articles on the Ezine Acts Inspirations and Motivations (site map 7 A), with its extension into the Ezine Acts Motivational Articles (site map 7 B), Ezine Acts Motivational Sites (site map 7 C), Ezine Acts Inspirational Articles (site map 7 D) and the Ezine Acts Inspirational Sites (site map 7 E).
The Business part of the consultation services is at the following business pages: Business Questionnaire| Business Strategies Cat| Comments| Ezine Acts Business Forums| Ezine Acts Comment C2 Entries| Ezine Acts Comments| Ezine Acts Discussion Board| Online Business Consulting Services| Relocation Consultant| SBI Discussion Board| Second Section of the Comments| Zines Commentaries|
The Inspirational part of the consultation services is at the following inspirational pages: Blogging for Pleasure| Building Distinguished Carisma| Develop Your Charisma| Formal Measures of Intelligence| How to Be Optimistic all the Time?| How to Be Productive?| How to Creating Personal Happiness?| How to Develop Your Personality and Carisma?| How to Positively Influence Yourself and the Others?| Influence| Khalid Osmans Network|
The sentimental part of the consultation services is at the following pages: Ezine Acts Love Commentaries| Ezine Acts Love Entries| Ezine Acts Love Stories| Ezine Acts Sentimental Stories| Love| Love Consulting Services| Love Problem| Love Problem Solution| Online Love Consulting| Online Love Consulting Services|
If you liked the political consulting services, please share it with your social media through the small buttons at the top and at the bottom of the page. Pin one of the Ezine Acts Pictures on the political consulting services, or at the Ezine Acts Galleries, Ezine Acts Photo Gallery and Pictures for Your Website. Thanks.
The Site Build It strong website building tools on the image below are all combined in one place to help you learn and build political consulting services, or any business online to improve your life.
They empower the political consulting services and the entire of the Ezine Act's Network at the Ezine Act, Politics, Business and Love and update it at the Ezine Act Blog.

---
Digital and Video Products| Email Marketing Media| Ezine Act Articles Index| Ezine Acts Art and Culture| Ezine Acts Articles| Ezine Acts Articles Section| Ezine Acts Art Links| Ezine Acts Associate Programs| Ezine Acts Biz Marketing| Ezine Acts Business| Ezine Acts Business Financing| Ezine Acts Business Publicity| Ezine Acts Fine Arts| Ezine Acts Game Site| Ezine Acts Home Business| Ezine Acts Internet Marketing| Ezine Acts Literature| Ezine Acts Newsletters| Ezine Acts Offline Businesses| Ezine Acts Traffic Converter| Ezine Acts Web Security| Ezine Acts Website Maps| Ezine Arabic Articles| Ezine Articles| Ezines Site Maps| Free Website Traffic| French Paintings| Home Based Business| Submit Articles| Submit Ezine Articles| WBM| Wise Biz Marketing| Wise Biz Newsletter|
© All rights reserved. HOME-BIZ-TRENDS.COM is one of Khalid Mohammed Osman's Networks.