My Girlfriend Cannot Use Social Network!
by Zack
(Karachi, Pakistan)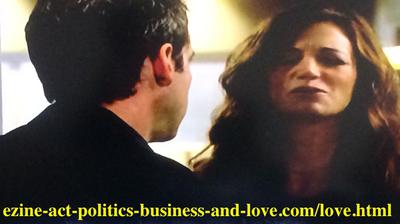 My Girlfriend Cannot Use Social Network: Nora Tate (Jama Williamson) and Max Luran (Cody Longo) in love in Hollywood Heights.
My beloved girlfriend cannot use the social network and keep in contact with me. This is the problem.

I love her too much. I love her more than I love anybody else in my life. I want her to go online too and connect with me in the social media.

In simple words, she is my life and I cannot even dare to think of spending my life without my (life). The problem is that she belongs to a very conservative family.

If her family knew our love relation, then none in the family will let her get in touch and keep any contact with me. On their part, they are right, because nowadays many things run around under their control.

They control the feelings, the way a member of the family should behave. If this member was a female, then their control would be hard. I understand that it's part of their obligations.

Of course, this is something unavoidable sometimes in any conservative family while they look after their children.

As for her family, I understand that as obligation to look after their only one daughter. This is the way we find ourselves obliged to follow, live, understand things here according to conservative manners and accept them. I understand all of that.

Therefore, my lover cannot keep contact with me on any social networking site. Her parents do not allow her to use cell phone, either. Coming out somewhere to meet me is out of question. What should I do in a situation like this?

** Read the resolution at My Girlfriend Cannot Use Social Network - Comments.




Readers: You can start a dating site in Pakistan and make it a big business for good marriages. Click on the image above. At the top of the right page, click on "Affiliate" and on the second page, click on "Sign Up", below the "sign in" form at the left column.



** You are at My Girlfriend Cannot Use Social Network.

** Read the entry page at Online Love Consulting Services.

** Share the Ezine Act Blog with your services. Use the buttons at the top, or at the bottom of the page.

** Subscribe to Wise Biz newsletter and receive some gifts.

** Forward Wise Biz to your friends.

** Become our friend at Google Friend Connect.

** Are you from Karachi, Pakistan?

Write about your city and upload pictures from it at Any Beautiful City.

** Read about beautiful places in Pakistan at the Indus River.

** Read about love and other love problems at the following pages:

Love Problem| Love Problem Solution| Mad in Love| Miss Milan Broken Heart in Brazil| My Boyfriend Loves Another Girl| My Girlfriend Wants Me Badly| My Girlfriend Wants to Break Away| My Husband Does Not Know the Child is Not His Child| My Parents Want to Destroy My Girlfriend| My Wife Likes an Old University Colleague| My Young Boy Stopped Masturbation| New Love Story| Nobody Loves Me| Online Love Consulting| One Side Love and Failure| Our Parents Refused Our Proposal| Parents Problems| Personal Relations Problems| Platonic Love| Please Help Me| Polite Touches| Problem Instantiating a Relationship| Roommate Finding Services| Sentimental Confusion| Sex| Sex and Love Make Me Sad| She Does Not Love Me Anymore| She Left Me| She Loves Me but She Admires Somebody Else| She Refuses to Talk with Me| Should I Continue My Love or Not?| Should I Tell Her that I Love Her?| Should I Try to Keep this Guy or Push him Away?| Someone Has Stolen My Girlfriend| Still in Love with My Ex-boyfriend| Submit Good Request| Sweet Arabian Girl Confused in Love| This is My Love Problem| Troublesome Love Relations| Troublesome Relationship| Two Guys Burn for Me| Uncrushed Love| Unemployed Love| Virgin at 19 Confused in Love| We Date in a Dating Site| We Don't Want to Go to Village| We Failed to Make Love Compatible| We Love but We Think Differently| What Should I Do with Him?| Why Do Lovers Break Promises?| Why Inter Castes Marriage is Difficult in India?|