Still in Love with My Ex-Boyfriend!
by Kylie Pollen
(Kuching, Sarawak, Malaysia)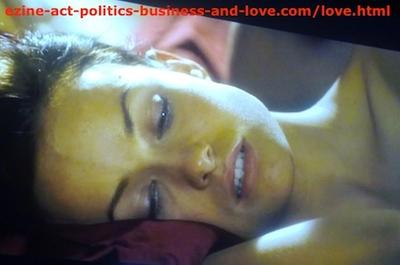 Lost in Love and Lust in Movies.
Hi ! Well, I don't know how to put this straight or how to tell you this but, I really needed help. We started dating in year 2010, 20th of March. We then had a very sweet and happy relationships, although with some arguements but I think arguements are kinda essential in a relationship, cause it helps to know each other better. Well, during our relationship, I was forbidden to text boys, facebook , cause he's a type of guy whose easily jealous. Let's just call him Mr. L! Mr. L is actually an easily jealous guy, but sweet, charming, gentle to me but to others he's like so rough. And I've always had confidence in our relationship so I sorta, you know, break the rules? I texted 3 guys, 3 times he caught, and argued but then okay. For your information, one of them is my ex, I know it's sorta like my fault. And during our relationship, there's once I sensed that he didn't love me that much anymore , I didn't know why so I broke up with him and my best friend (a guy), faked being couples to make him jealous, but we still contacted like phone calls and texts. We got back a week after. Then a few weeks before today, he broke up with me. He said that he couldnt trust me anymore and he feel that I don't appreciate him anymore. Well, this really is my fault huh? The thing is, at that moment , some girl just came and tell him that she likes him, well before she already said but he didn't reply her texts. That girl, lets call her Miss J. Miss J knows my existence , in fact we chatted before, she was Mr. L's classmate. I didn't know why on earth would she be liking him when she knows that he has a girlfriend. And Mr. L says that he loves me a lot lot more, but he's hurt, so he didn't want to face the truth, he text the girl, everyday I think, since I didn't ask. And I've been reading articles on how to get your ex back and etc, but they all said that I should leave him alone for like one months or so? But, we were always in touch and he said he'll be back with me after I change my attitude, and I can see that he really love me and cared about me cause there was once I was sexually insulted by a guy, he stood up for me and even warned that man to stay away from me. I didn't text him after we broke up for a week, he texted me and we continued till now. So my point is, what should I do ? Since I already did the wrong thing from the first according to all those people writing the articles. What should I do to get him back like more faster and more efficient? I really love him and so does he. HELP NEEDED !


* Please, read your request again here to see how it is confusing. It is also ugly to publish it the way you wrote it.
* Follow the guidelines on the main pages at
Online Love Consulting
and
Online

Love Consulting Services
. I also highlighted the form submission guidelines at
Love Consulting Requests
.
* See this: "Hi !". No one writes it this way. There are also many spaces between commas and the last words inside your sentences. Sometimes, there are commas instead of fullstops in your sentences. Consider paragraphs, as they make your request clear and easy read.
* There are also spaces between the question marks and the last words in some sentences. Do not make it difficult to read your request this way. Write short and clear sentences. Write few short sentences in short paragraphs.
* I kept on repeating this on so many pages for visitors to make sure that following the guidelines help us reply to your request very fast. See the way I replied to you here. Follow this example to write short sentences in short paragraphs.
* This way, you will help us help you. You will also help other readers to read your problem well. Some readers might have the same problem. So, you will help them this way get the answers we intend to provide to you.
* I do not know, whether you wanted to publish your full name or not. So, it is better to indicate that at the end of your request.
*Relax while writing requests. Make yourself clear to express what you feel and write good details about what has happened between you.
* When there were more people connected to this love problem, write good details about each of them. Provide also good details about you and your lover including cultures, beliefs, jobs, economies, shared interests etc... to read the problem well and then provide you with the solution.
* Use the comment link at the bottom to re-write your request following the mentioned guidelines. You can also see from this entry how to write short sentences in short paragraphs.
⌘ Are you from Kuching, Sarawak, Malaysia?
* If so, write about it at
Any Beautiful City
here. Read about beautiful locations in Malaysia, or near it at the
Sulu Sulawesi Sea
⌘ You are here at
Still in Love with My Ex-Boyfriend
.
⌘ Follow the
Ezine Act Blog
to read updates on requests submitted at the
Comment C2 Entries
.
⌘ Better, subscribe to the
Wise Biz
Ezine to keep connected with the
Ezine Act
's network.
⌘ Like, tweet, or "Still in Love with My Ex-Boyfriend" with your social media network and pin the pictures you see on this network.
⌘ Check Love, Site Map 6 including many articles about love and many requests below:
Am I Doing Anything Wrong
?|
Bright Letters
|
Bright Letters and Polite Touches
|
Childish Love Experience
|
Comment C2 Entries
|
Dating Services
|
Does She Still Love Him
|
How Do Elephants Kiss
?|
How I Feel the Strong Feeling of Love
?|
How to Make Him Feel
?|
I am Jealous
|
I am Not Sure Whether He Loves Me or Not
|
I Love My Classmate
|
I Love Two Girls
|
I Need Love Advices
|
I Want My ex-Boyfriend Back
|
Liking Starts Here
|
Love
|
Love and Romance
|
Love and Sex
|
Love Consulting Requests
|
Love Letters
|
Love Problem
|
Love Problem Solution
|
My Parents Want to Destroy My Girlfriend
|
Online Love Consulting
|
Personal Relations' Problems
|
Polite Touches
|
Roommate Finding Services
|
Sex
|
She Left Me
|
Still in Love with My Ex-Boyfriend
|