We Date in a Dating Site!
by Free Bird
(Al Qahirah / Cairo, Egypt)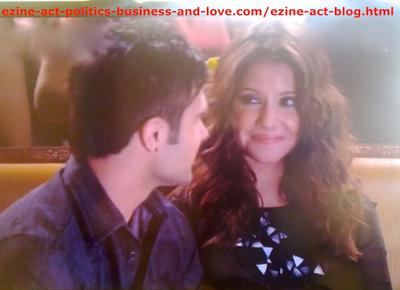 We Date in a Dating Site: Eddie Duran and Loren Tate
I met a guy a year ago online on a dating website. We are getting along so well. We are from the same country but he lives abroad! So, we have the same cultural background and match almost in everything.

At the beginning, he used to call more than once each day. Later, his calls became less. When I asked him, whether he lost his interest in me or not, he said no. He confirmed that he loves me. He said he was just busy.

He even sent me flowers in Valentine's Day. I liked that and appreciated it. However, I have a serious problem to show my feelings to him. I do not want to be disappointed later.

I wrote a poem about him even, but I am so hesitant to send it to him. I know that everyone will tell me I have to take a risk, but I am not sure.

He never said anything about planning to come over here to meet me in person. Should I send him the poem? Alternatively, should I wait until we see each other in person?

I appreciate responding to my request. Many thanks.

*** Very well written request in short sentences and short paragraphs. The love problem seems not clear, or perhaps there is no problem at all.

Follow the answer to this request at the comment link below. Thanks.




You can start a dating site in Egypt and make it a big business for good marriages. Click on the image above. At the top of the right page, click on "Affiliate" and on the second page, click on "Sign Up", below the "sign in" form at the left column.



** You are here at We Date in a Dating Site.

** Read the resolution to this love problem here at We Date in a Dating Site - Comments.

** Read the entry page to this love problem and request love consulting at Online Love Consulting Services.

** Share this page with your services through the buttons at the left column, or at the bottom of the page.

** Subscribe to Wise Biz here to receive updates about love and business. You'll learn at the same time how to "look deep inside yourself" to discover values that make your passion, or experiences, or things you know much about and then choose the best of them to improve your life.

** See how the following information in the pages below could improve your life:

Choose It| CTPM| Success Stories| Things Interest You|

** Forward Wise Biz newsletter to your friends, request them to visit and share the website with their social media and receive more gifts.

** Are you from Egypt? Write about your city of birth or residence and upload beautiful pictures at Any Beautiful City here.

** Read about beautiful places in Africa such as Cape Floral Region, Congo River Basin, Gondar, Kalahari Desert, Kilimanjaro, Kordofan, Lake Chad, Lilongwe and Madagascar.

** Enjoy becoming more literate and know more information about places, people and passion and hobbies that interest other people. Get closer and follow the updates of the network at the Ezine Act Blog.

** Read more about love and problems at the following pages:

Am I Doing Anything Wrong?| A Crush on Someone| Am in Love, But Not Sure| Attached, but Fell in Love with Another Guy| Best Friends Love| Bright Letters| Bright Letters and Polite Touches| Childish Love Experience| Complicated Love Relations| Complicated Love Story| Confused - Right or Wrong?| Confusing Love| Dating Services| Did He Change His Heart?| Does He Love Me?| Does He Treat Me as a Sister?| Does He Truly Love Me?| Does She Love Me?| Does She Still Love Him?| First Love Experiences Can Be Your Shadow for Life| Friendship and Love| Full Information| Good Relationship| Has My Husband Destroyed our Marriage| He Expressed his Love and Disappeared| Help Me Out of Crazy Love| Her Father Imprisoned Our Love| Her Friend is a Problem| His Ex-girlfriend Makes Him Feel Bad| Hopeless Love| How Do Elephants Kiss?| How Do I Find My Way in Love?| How Do I Forget My Love| Love| Love and Romance| Love and Sex| Love at first sight| Love Consulting Requests| Online Love Consulting| Roommate Finding Services| Submit Good Request|