Troublesome Love Relations!
by Anisha
(Delhi)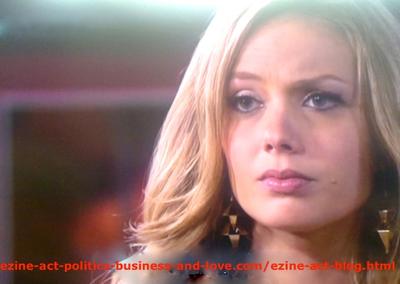 Chloe Carter (Cynthia Kowalski) While She was Angry and Full of Conspiracies and Plans to Get Loren Tate (Brittany Underwood) Down and Win Eddie Duran (Cody Longo) Back in Hollywood Heights.
Anisha wrote from Delhi in one long paragraph, I divided here, "I am a school going girl. I think I have fallen in love with someone of my batch. But its very difficult now to express my feelings to him.

The reason is that we are very good friends and I fear that our friendship might get over after I tell him".

"Nowadays, I even don't get a friend to share all this. I am a very emotional and sensitive personality and have been in a relation once. But he will be the first one if we got together. I am afraid to tell him face to face".

"I thought many times that I should text him, but I want to tell him face to face to avoid any communication gap between us afterwards. Please tell me and suggest what should I do?"

* Comments

There is some information missing. Please, follow the guidelines on the main consulting pages to write good request.

* Are you from Delhi?

Write about it, or about Any Beautiful City in India here. Read about places in India at Gujarat.

---
Gaurav Tewari
wrote from India, "I loved a girl who studied with me in my coaching. We became friends and after two to three months of friendship I proposed her, but I was shocked to know that she was already committed".
"She never told me about that. She said, (sorry) many times and explained that she never knew I would propose her and showed a lot of sympathy. After that we continued talking to each other for a month and I also met her twice or thrice".
"Her behavior was normal, after that. But, she does not reply to my messages or calls. I am very depressed and I feel more depressed, when our common friends tell me about her and her boyfriend".
"I am confused and do not know what to do, because I feel terrible even if I do not talk to her for a single day. What should I do should? Should I forget her?
That is very painful. Should I await for her to come back? I love her more than anyone else. Some people told me to wait for her, so she may realize how much I love her and feel my true love one day".
"When I met her few days back and while she talked with me, I got to know that she ignored me because her boyfriend has told her to do so. Now I want, at least to continue my friendship with her. Please help me".
* Read the comments above.
* Are you from India?
Write about your city at any beautiful city link above.
Someone
wrote from India in one long paragraph, I divided here, "I am in relationship for the last four years. He proposed expressing his love and I really started loving him after 1 year of our relation. He was very nice, then".
"Now all of a sudden he is being very physical to get some touches. He expresses his desire to get intimate touches like these touches you know that get deeper. This makes me feel very insecure in his company".
"The only very intensive subject of his conversation is sex. He stops talking to me and behave very cold, when I didn't involve myself in his conversation. If I ask him for anything in return, he wants something or the other from me".
"Any negative response form me makes him angry and he behaves in a very disrespectful way. I care for him and caters feeling for him, because he had been very supportive, nice and loving early when we started".
"I find him NOW more lustful. I tried to break up, but I'm -- to a extent emotionally dependent on him. I don't know what to do".
* Read the comments above.
* Are you from India?
Write about your city at any beautiful city link above.
---
Pandu
wrote briefly from India, "My name is PANDU. I have a problem with my recent boyfriend, SANJU, as I wanted him to know that I truly love him. He seems to avoid me every time, because I lied to him and told him that I had not any boyfriend in the past".
"But, he knew the truth and found that I had a boyfriend. He recently called my parents and told them about every thing.
I have a feeling that he loves me, although he does not speak with me properly. Please, tell me is there any way to make him mine forever".
* Read the comments above.
* Are you from India?
Write about your city at any beautiful city link above.
---
Summer
wrote from Melbourne, Australia in one long paragraph, "My boyfriend and I have been together for six months. We both are university students.
He is going to graduate this december and planing to continue his study in another country".
"It seems like he will be going around for 2-3 years. He told me that he does not want to bind me with him, as we will not be together for that long, but he will be there in touch, if I needed help".
"He wants me to open my mind to another guy. He is my first love. It is so hard to handle the situation. Once I think he might not love me anymore and use me for sex, but he told me his feeling to me is real. I am confused.
I do not wanna be a blind person falling for love. Now he asks me to do our best before he goes".
* Read the comments above.
* Are you from Melbourne, Australia?
Write about it, or any city in Australia at any beautiful city link above.
---
* You are at
Troublesome Love Relations
.
*
Forward Wise Biz
to your friends, encourage them to keep connected with this network and share it. You'll receive good e-books and e-courses to read.
* The business courses will improve your language. You'll discover how to use your passion, even if you were student to build a web
business
.
Then you'll earn additional income to continue with a solid business, when you graduate. You'll not never need to work for a company or someone else.
* How to develop your life and make it better?
Choose It
|
CTPM
|
Start Learning from Free Resources
|
Things Interest You
|
* Read problems at:
A Crush on Someone
|
Am I Doing Anything Wrong
?|
Am in Love, But Not Sure
|
Childish Love Experience
|
Complicated Love Story
|
Confused - Right or Wrong
?|
Confusing Love
|
Does She Still Love Him
|
How I Feel the Strong Feeling of Love
?|
How to Choose the Right Girl
|
How to Make Him Feel
?|
How To Tell My Mom about My Love
|
I am Not Sure Whether He Loves Me or Not
|
I Love Four Boys
|
I Love My Classmate
|
I Love Two Girls
|
I Need Love Advices
|
Intense Love Connection
|
I Want My Boyfriend Back
|
I Want My ex-Boyfriend Back
|
Love Consulting Requests
|
Love or Just Friendship
?|
Love Problem
|
Love Problem Solution
|
My Parents Want to Destroy My Girlfriend
|
Parents Problems
|
Personal Relations' Problems
|