Virgin at 19 Confused in Love!

(Guyana, South America)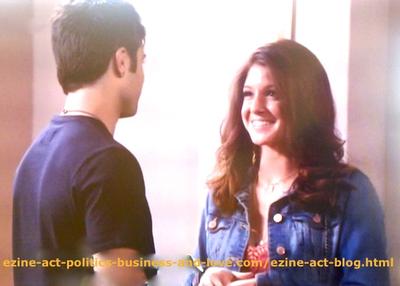 Loren Tate (Brittany Underwood) and her Love Eddie Duran (Cody Longo) When Her Video Hit the Roof in Hollywood Heights.
We receive so many love consulting requests daily. It becomes very difficult to respond to all of these requests, when you ignore the guidelines we published at the main Online Love Consulting, Online Love Consulting Services and the link above. Therefore, we publish some of these requests, as you submitted them in long paragraphs and long sentences and with so many language mistakes.

We said that we'll not provide any consulting service, if you ignored the guidelines. However, other visitors could respond to your requests here, of course, if they had time to do that. When the time is available, we'll come back to re-edit your request and maybe provide you with some advices.

* Somebody wrote from Guyana, South America in a very long paragraph, "i am a 19 year old girl,a virgin and i have never really had a serious relationship with anyone but i have a crush for a guy that works for my dad for the pasted 6 years and thats how long i have had this crush for him and the same goes to him but the thing is that its so complicated for us to be together because my dad will never want me to be with him.but recently we started a relationship after having feelings for each other for the last six years. we used to think that it will be too complicated for us to have a relationship we kinda moved on actually he moved on and had another girl as his girlfriend for 4 years. then they broke up and now we are together and everything was great until recently i saw a love bite on his neck and knowing that i did not put it there i asked him about it and he told me that he was drinking one night and ended up sleeping with a girl. i kinda understand where he was coming from because he cannot do anything with me and he is a very high nature person,,,and enjoys sex alot. but knowing that he cannot have sex with me because my parents is very strict and to add to it the relationship between us is a secret so i don't blame him in a way, but it really hurts me to know that he sleep with another woman. i know that he has no feelings for her (it was just a one night stand) but am so confuse....i have a feeling like i should break up with him but am not sure because the relationship that we share is very different from the other girls he has been with. by the way he's kinda of a the bad boy type that's really cute and can get any girl he wants which he has took advantage of on many occasions.but its so different with me he said that the feeling that he has for me is very different... please advice me on what i should do.should i break up with him or stay in the relaionship?.before u make a decision please keep these in mind:i have had feelings for this guy for the past 6 years and same goes for him only difference is that knowing that it would be complicated for us he moved on and had a girlfriend for 4 year with is finish now,knowing that my dad is rich and he even work for my dad,he has never asked me for anything nor force me to do anything unlike many guys would wanna be with me for money,my parents will never want be to be with him because of the life that he lives in terms of the amount of girls he has sleep with and he works for us which means our status is far apart,he cannot keep his cock in his pants but he loves me,at least he told me the truth about the love bites on his neck and he did not lie to me,he still wanna be with me know that he cannot have sex with me,he is very hardworking and has good values and respect for people,he is treats me good in terms of talking,he respects me,he care about me and lastly i love this guy a lot, he is everything that i want in a man...but then again i love my dad alot and i don't wanna let him down,i will be waiting on your reply..please think about my situation and let me know what to do".




* More Comments

We have many things to do here, so consider always to submit good love problems we could read easily and understand.

If you read your request you have submitted above again, you'll see many spelling mistakes. You should not write, "i" instead of "I". You cannot put full stops after question marks. You should hit one space after each full stop, each question mark and each comma. "A lot" is not one word. You should write, "a lot", or so much, or many when it is applicable.

* Are you from Guyana, South America?

Read about places in South America at Beautiful Amazonian Photos, Beautiful Caracas CityChacaltaya, Recife and Rio de la Plata.

Write about any city in Guyana, South America, or any other city in any country in South America at Any Beautiful City.

---
* You are here at
Virgin at 19 Confused in Love
.
* Subscribe to the
Wise Biz
Newsletter to keep connected with this network. You will receive good e-books and e-courses to read, when you confirm your subscription to the newsletter.
* The ebooks and the business courses will improve your language. You'll discover how to use your passion, even if you were student to build a web
business
.
Then you'll earn additional income to continue with a solid business, when you graduate. You will not even need to work for a company or somebody else.
* See how the following pages could develop your life and make it better:
Choose It
|
CTPM
|
e-Learning College
|
SBI eLearning
|
Success Stories
|
Things Interest You
|
* Like, tweet, or share "Virgin at 19 Confused in Love" with your social media network and pin the pictures.
* Check some problems love at the links below:
Am I Doing Anything Wrong
?|
Childish Love Experience
|
Does She Still Love Him
|
How I Feel the Strong Feeling of Love
?|
How to Choose the Right Girl
|
How to Make Him Feel
?|
How To Tell My Mom about My Love
|
I am Jealous
|
I am Not Sure Whether He Loves Me or Not
|
I Love My Classmate
|
I Love Two Girls
|
I Need Love Advices
|
I Want My ex-Boyfriend Back
|
Love Problem
|
Love Problem Solution
|
My Parents Want to Destroy My Girlfriend
|
Parents Problems
|
Personal Relations' Problems
|
She Refuses to Talk with Me
|
Should I Try to Keep this Guy or Push him Away
|
Uncrushed Love
|