His Ex-girlfriend Makes Him Feel Bad!
by Parul
(India)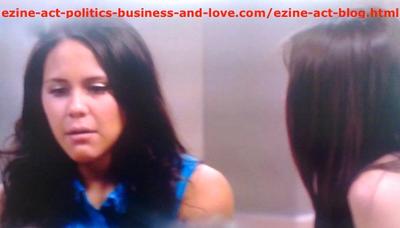 Melissa Sanders (Ashley Holliday) When She Fled to Her Friend Loren Tate (Brittany Underwood) and Told Her that Lisa Sanders (Meredith Salenger) is Not Her Mother, But Her Aunt.
Parul wrote from India, "I am 22 years old and in a relationship and it's going to be almost one year. My boyfriend was in a relationship since five years.

His ex-girlfriend cheated him. He had breakup at the starting of last year. We were friends, but he proposed me and after saying no I said yes".

"We are also in a physical relationship and I am not a virgin. The problem is that his ex-girlfriend calls him sometimes. Sometimes, he feels very depressed and wants to be alone. He still has not forgotten her, and sometimes he feels very depressed, because of this".

"It's not like that he wants to go to her again, because he doesn't trust her. Whenever I say (I love you) to him he doesn't reply, but just says OK. He said (it reminds me of someone, that is why I don't reply)".

"He knows that I love him a lot. He told me everything about his past. He likes me, trusts me, cares of me and misses me. When he goes out with friends, he takes me also. But he doesn't love me I feel. He still loves her".

"He put a very gloomy picture on Facebook last night, because he was not feeling good. I asked him who is more important for you she or me. I am awaiting for him to change that picture".

"I had also been in a relationship for three years, but I don't love my ex-boyfriend anymore. My boyfriend knows about my past".

"Please, tell me what to do. I love him too much. I do everything for him. What should I do, so that he can forget her and love me?

I cannot leave him. He likes me, but I want him to love me. Should I keep doing my best and wait? Should I ignore him, so that he can realize my worthiness? Please, help me. I am very depressed".

* Continue to read the solution at His Ex-girlfriend Makes Him Feel Bad - Comments.

* Are you from India?

Write about your city, or Any Beautiful City in India and read about Gujarat at the second site.

---
Indiana
wrote from China, "His reaction seems to be very positive! He knows very well I love him and only him! He is a very shy and conservative guy. He doesn't talk to girls much".
"But, he asked for my number to his friend to be my friend! He didn't tell any of his friends about this. When I was enquiring about his faves and got stuck, he continued with it".
"Suddenly my friend came so I cut the call. His friend who was there in his house said he felt shy, when he had to talk to me. He doesn't know what to speak about. The guy I love told me that he needs privacy".
"It should be only between us both and no one else! When I proposed he said he is not interested in love. Then he aid to me after a while that he will try. Does he love me by any chance?"
* Continue at the first link above.
* Are you from China?
Write about your city, or any beautiful city in China using one of the following links. Read about places in China at
Beijing
and the
Yangtze River
.
---
Archie
wrote from Hyderabad, "I am Archie. I love a person madly. He also loves me. I used to be his best friend. After breaking up with his previous girlfriend he proposed me.
But, everyday he feels like missing his Girlfriend. So, we quarrel everyday for that reason. What should I do, so that he could forget that girl completely?"
* Read the response at the first link above.
* Are you from Hyderabad, India?
Write about your city at any beautiful city link above.
---
* You're at
His Ex-girlfriend Makes Him Feel Bad
.
* Subscribe to
Wise Biz
Newsletter to keep connected with this network and receive good e-books and e-courses to read, when you confirm your subscription.
* All the gifts will improve your language. You'll discover how to use your passion, even if you were a student to build a web
business
.
Then you'll earn additional income to continue with a solid business, when you graduate. You'll not even need to work for a company or somebody else.
* See how to develop your life and make it better:
Choose It
|
CTPM
|
Things Interest You
|
* Check some problems below:
Am I Doing Anything Wrong
?|
Am in Love, But Not Sure
|
Childish Love Experience
|
Complicated Love Story
|
Confused - Right or Wrong
?|
Confusing Love
|
Does She Still Love Him
|
How I Feel the Strong Feeling of Love
?|
How to Choose the Right Girl
|
How to Make Him Feel
?|
How To Tell My Mom about My Love
|
I am Jealous
|
I am Not Sure Whether He Loves Me or Not
|
I Love Four Boys
|
I Love My Classmate
|
I Love Two Girls
|
I Need Love Advices
|
Intense Love Connection
|
I Want My Boyfriend Back
|
I Want My ex-Boyfriend Back
|
Love
|
Love Consulting Requests
|
Love or Just Friendship
?|
Love Problem
|
Love Problem Solution
|
My Parents Want to Destroy My Girlfriend
|
Online Love Consulting
|
Online Love Consulting Services
|
Parents Problems
|
Personal Relations' Problems
|
Sex
|
She Left Me
|
She Refuses to Talk with Me
|
Should I Continue My Love or Not
?|
Should I Try to Keep this Guy or Push him Away
|
Still in Love with My Ex-Boyfriend
|
Submit Good Request
|
Troublesome Love Relations
|
Uncrushed Love
|
Virgin at 19 Confused in Love
|
Why Do Lovers Break Promises
?|