Complicated Love Story!
by Jim
(Belgium)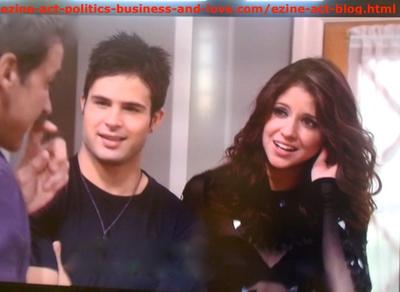 Loren Tate (Brittany Underwood), Her Love Eddie Duran (Cody Longo) and His Dad Max Duran (Carlos Ponce), When the Two Stars Found that He Spent the Night at Loren's Home with Her Mom Nora Tate (Jama Williamson).
Jim wrote the following from Belgium:

Hey, I visited your site it's AMAZING. But I have a rather complicated love story, it's not a happy one. And I need your advise on it.

It started 2 years ago. I fell for my best (girl)friend. I asked her if she loved me but she wasn't sure... When I got over her (actually I didn't), She fell for me. We were on holiday together and she fell for me. Unlucally my best friend fell for her too.

He asked me to get out of the way etc. so I couldn't kiss her because I was affraid of him => result she was mad at me, I didn't kiss her. But then she fell for my best friend => result he started trheatening me with death (for months) etc. After a too long story to tell.

She "saw" that he couldn't be trusted. Now I'll get to the point, we're together now but she has manny doubts for example:

What if I find a better boyfriend?
What if our relationship fails?
What if me feelings for you aren't true? and... thousand more "what if" questions.

And now she started texting again with that friend and she believe in his lies eventhough she knows and see it isn't true what he tells her. She's now trying to forget me and she ignores me. What can I do to make it clear for her that he is wrong and he would harm her? She always say, "He's so friendly to me, he wouldn't harm me".

Could you give me advise on this, how do I "convince" her or what do I have to do with those doubts? Kind regards.




* Are you from Belgium?

Write about your city at Any Beautiful City.

---
Rita
wants us to be confident of what she tells on her love story. She wrote in one long paragraph from Mumbai, India, "I have a boyfriend and I love him he says even he loves me but the problem is His past was very bad he told me everything about his past. He felt in love 2 time, first was one side love and second was with his ex-girlfriend, he had only girlfriend. He told me that they even had physical relation many times they were in love but once he doubted her after which they both broke up. After clearing his doubt again patched up but girl lost her interest on him then they finally broke up. He felt even that was one side love. After few months he met me we were just friends for many months we started liking each other and finally we felt in love, even he changed a lot he use to flirt with many girls after meeting me he has stopped doing that. But when he told me everything about his past I find it difficult to trust him that he loves me because a person can't fall in love so many times. Now I am confused whether to trust him and be in relation with him or not".
* Are you from Mumbai, India?
Read about Gujarat and write about Mumbai, India or any city at
Any Beautiful City
.
---
Somebody
wrote from the
Beautiful Santiago City
that he loves a married woman. He said, "I am 16 years old and I cannot take it any more, as I see her in my dreams every week".
He added, "One day, I blinked at her, when we were both in a cafe shop and she smiled at me. I wished I could hug her. What should I do?".
Comments
* You all have neglected the guidelines on the main love consulting pages to submit good requests. Follow that and get the solutions you want.
*
Complicated Love Story
.
* Use the form at
Forward Wise Biz
to forward the site to your friends. You'll receive good e-books and e-courses to read, when you encourage your friends to share the website with the social media services.
* The ebooks and the business courses will improve your language. You'll discover how to use your passion, even if you were a student to build a web
business
.
Then you'll earn additional income to continue with a solid business, when you graduate. You'll never need to work for anyone else.
* See how you could develop your life and make it better below:
Choose It
|
CTPM
|
Things Interest You
|
* Check Love and other love problems below:
Am I Doing Anything Wrong
?|
Bright Letters
|
Childish Love Experience
|
Confused - Right or Wrong
?|
Confusing Love
|
Dating Services
|
Does She Still Love Him
|
How Do Elephants Kiss
?|
How I Feel the Strong Feeling of Love
?|
How to Choose the Right Girl
|
How to Make Him Feel
?|
How To Tell My Mom about My Love
|
I am Jealous
|
I am Not Sure Whether He Loves Me or Not
|
I Love My Classmate
|
I Love Two Girls
|
I Need Love Advices
|
I Want My Boyfriend Back
|
I Want My ex-Boyfriend Back
|
Liking Starts Here
|
Love
|
Love and Romance
|
Love and Sex
|
Love Consulting Requests
|
Love Letters
|
Love or Just Friendship
?|
Love Problem
|
Love Problem Solution
|
My Parents Want to Destroy My Girlfriend
|
Online Love Consulting
|
Online Love Consulting Services
|
Parents Problems
|
Personal Relations' Problems
|
Polite Touches
|
Roommate Finding Services
|
Sex
|
She Left Me
|
She Refuses to Talk with Me
|
Should I Try to Keep this Guy or Push him Away
|
Still in Love with My Ex-Boyfriend
|
Uncrushed Love
|
Virgin at 19 Confused in Love
|
Why Do Lovers Break Promises
?|