Am in Love, But Not Sure!
by Syra
(Singapore)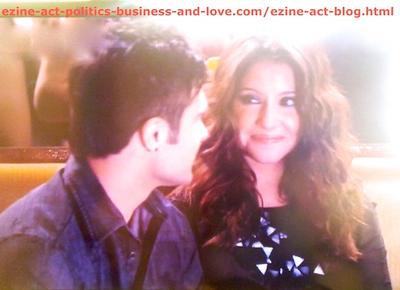 Eddie Duran (Cody Longo) and His Love Loren Tate (Brittany Underwood), While He Supported Her as a New Star in Hollywood Heights.
Syra wrote from Singapore in one long paragraph, I divided here:

"I am a 24 yr old girl, in love with a guy in my office, he is tall, dark, very determined at work, very true at heart and a genuine person. all these made me fall for him. I always text in sms and he hardly makes time to reply to me".

"I proposed to him after 2 months I met him. He then took me out one day, and told me that he cant marry me as there were family issues which would stand a barrier to our relationship. he still spent so much time with me and he never wanted to get back home".

"Since then he started replying to my texts and came to my place when I was alone. He was very decent and never took advantage of the weakness I had over him. But he still stays he cant get in to a replationship with me. I also told him that all family issues could be solved. but nothing seems to work".

"I love him madly and want to spend the rest of my life with him. My birthday is next month and sometimes i feel he would say an yes to me on my birthday. Am really not able to read and understand a guys mind. do you think he loves me? pls help!"

Comments

* You have some language mistakes in your request. You also wrote it one long paragraph. Regarding the language, you should start the first word in every sentence by capital letter. Write "year" instead of "yr", "SMS" instead of "sms" and "please" instead of "pls".

* Don't forget apostrophes. Check your spelling mistakes. You should not summarize any word. You should not summarize your request. Write in simple, but good English. Write short sentences in short paragraphs.

* You have not followed the instructions to write good request and provide good details to get your problem covered and solved. We published the instructions just above the forms and on the main pages at Online Love Consulting and Online Love Consulting Services.

* Recently, we supported those pages by other two pages at Love Consulting Requests and Submit Good Request. We did that because many people tend to ignore the instructions, so they write poor requests.

* We receive so many requests every day, so we do not want to spend life correcting many mistakes people made while they were writing their requests. This will not hep us get back to you sooner to respond to your request.

* We mentioned at the main consulting pages that we'll not respond to requests you wrote in a hurry to solve your problem, unless you spend time to write good requests, provide good details and make yourself very clear.

* Are you from Singapore?

Write about your city at Any Beautiful City in the world.




Mel does not know what to do anymore. She wrote from Pakistan in one long paragraph I divided here:

"I've been together with a guy since last two years now, I met him on the internet three years back. We both were best friends before boyfriend/girlfriend, and personality wise, a complete copy of one another".

"After a year however, we decided we were one for each other and took our friendship one step further. The first year went pretty great together, however, the second year was his senior year of college, (my freshman year) and he claimed busy times, tough routines, college net problems etc".

"After the senior year however, he moved out, got a job and now works 9 to 6pm as an assistant manager in an automobile company, and again claims tough times, no routine, and no time together with me".

"I should be understanding, I know, and I try to be, a lot, I even try to do everything possible together from this distance, just to cheer him up, and it does, but he has stopped putting in an effort completely".

"And I mean it, completely as in he would now rather sleep or watch tv to relax after work, than come online just to say hi. If I try connecting to him through facebook, he deletes up my comment and claims he doesn't want anyone to know".

"I know the thought arises that he might be cheating on me, but its not that way at all, because there's no sign of some other girl in his life anywhere".

But, if it's not that way, then I don't understand why he takes me for granted, or doesn't put an effort, and yet is completely serious about our commitment and wants to marry me sooner in future".

"What should I do? Because I'm a conservative person and don't make many friends, and he knows he's the only one I share everything with, and since he doesn't put an effort for that also anymore, I am left helplessly alone and broken. Please help me".

Comments

* You should also follow the guidelines to write & submit good love consulting request. Please, see the main Love Consulting Services pages.

* Are you from Pakistan?

Read about places in Pakistan at the Indus River and write about your city at any beautiful city link above.

---
* You are at
Am in Love, But Not Sure
.
*
Forward Wise Biz
to your friends. You will get good e-books & e-courses to read.
* The ebooks & the courses will help you discover how to use your passion, even if you were student to build a web
business
.
Then you'll earn additional income to continue with a solid business, when you graduate. You will not even need to work for a company or somebody else.
* Check some love problems below:
Amateurish Love
|
Am I Doing Anything Wrong
?|
Childish Love Experience
|
Complicated Love Story
|
Confused - Right or Wrong
?|
Confusing Love
|
Does She Still Love Him
|
How I Feel the Strong Feeling of Love
?|
How to Choose the Right Girl
|
How to Make Him Feel
?|
How To Tell My Mom about My Love
|
I am Jealous
|
I am Not Sure Whether He Loves Me or Not
|
I Love My Classmate
|
I Love Two Girls
|
I Need Love Advices
|
I Want My Boyfriend Back
|
I Want My ex-Boyfriend Back
|
Love or Just Friendship
?|
Love Problem
|
Love Problem Solution
|
My Parents Want to Destroy My Girlfriend
|
Parents Problems
|
Personal Relations' Problems
|
She Left Me
|
She Refuses to Talk with Me
|
Should I Try to Keep this Guy or Push him Away
|
Still in Love with My Ex-Boyfriend
|
Uncrushed Love
|
Virgin at 19 Confused in Love
|