Confused - Right or Wrong?
by Marion
(Malaysia)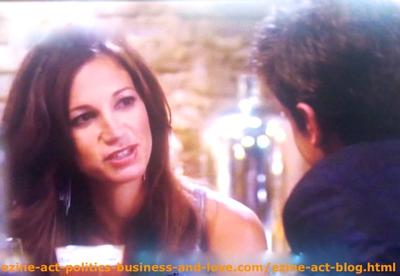 Love in Hollywood Heights - Max Duran (Carlos Ponce) and Nora Tate (Jama Williamson) in Hollywood Heights.
Marion wrote from Malaysia in one long paragraph, "Hi, my name is Marion. Recently I received a marriage proposal. My parents and relatives said positive things about the guy. So, I started liking that guy. But, now that guy had said he is not interested to get married now. We have not met and I don't think so the guy knows my name or anything about. It was fully between both families (mine and his)".

He said, "But, without me realising I started to develop a feeling towards that guy even without seeing him. This is maybe because of the things I heard about that guy. So I decided to get to know that guy through FB and get to know. I did that but not from my own account. I created a new account with a different name and started to get to know that guy. I'm actually starting to like him more. And, I also got to know that the guy is a love failure but he is ready to get to involve again. But, now I'm feeling guilty for what I'm doing. I don't know whether this is right or wrong. I'm doing this in a secret. But, recently when I was talking to my mom, she suggested me to actually get to know that guy through fb (in a way like how im doing now or ask my friend's help) So, what should I do and is what I'm doing is right? I'm totally confused".

Comments

* Marion, read the instructions posted on the main consulting pages to write good request well constructed in short paragraphs and provide the required information.

* Are you from Malaysia?

Read about places in Malaysia at the Sulu Sulawesi Sea and write about any city in Malaysia at Any Beautiful City.

---
Tashfinshaikh
wrote from Mapusa , Goa, India asking, "How to convince my parents?"
He started his request saying, "HI..I am in love with guy for 3 years. we want to marry each other."
Then he continued, "both of our parents know about our relationship.my boyfriends family had agreed to our relation but my family is not agreeing.we both tried to convince them. but they are not listening. i am a Muslim girl and my boyfriend is also Muslim.my parents say that love marriages are not allowed in our religion.and my parents thing that the my boyfriend is whit me because of my money. but it is not true that guy loves me very much".
He said, "listening all this my boyfriend said till i convince my parents he will not talk to me.he also told me run whit him but i did go because we are only two sister and we don't have brother and our father have us every thing and my father also love me very much but my father don't understand my love".
"six months passed my boyfriend is not talking whit me.but he is waiting for me to convince my parents.he every day calls me and listen to my voice and cut the call but never talk to me.i know he still loves me. i also love him.but i don't know how to convince my parents. now its becoming worst for me to stay without by boyfriend.i don't want to loose my love and my parents i want both of them.." he added.
He closed his request saying, "please help me what should i do. how to tell my parents how much we love each other.how to convince my parents for our marrage".
Comments
* Please, read the comments above.
* Are you from Mapusa?
Read about places in India, such as
Gujarat
and write about Mapusa , Goa, India at the second site.
Khadar
wrote from Juba, South Sudan, "i love a girl but she doesnot love me because i told her my love and she refused to accept it so what to do and i love her".
Comments
* Follow the guidelines at the main pages to submit good requests. That is not the right way to write requests. You should write your request in good details and in good language. Continue at the comments link above.
* Are you from Juba, South Sudan?
Read about the beautiful
Kordofan
and write about Juba at the second website. Read political issues about
South Sudan
.
---
*
Confused - Right or Wrong
?
* Share the blog and
Forward Wise Biz
to your friends. You'll get good gifts.
* The ebooks and the business courses will improve your language. You'll discover how to use your passion, even if you were student to build a web
business
.
Then you'll earn additional income to continue with a solid business, when you graduate. You will never need to work for a company or somebody else.
* See how you could develop your life and make it better:
Choose It
|
CTPM
|
Things Interest You
|
* Check Love, Site Map 6 below:
Am I Doing Anything Wrong
?|
Bright Letters
|
Bright Letters and Polite Touches
|
Childish Love Experience
|
Dating Services
|
Does She Still Love Him
|
How Do Elephants Kiss
?|
How I Feel the Strong Feeling of Love
?|
How to Choose the Right Girl
|
How to Make Him Feel
?|
How To Tell My Mom about My Love
|
I am Jealous
|
I am Not Sure Whether He Loves Me or Not
|
I Love My Classmate
|
I Love Two Girls
|
I Need Love Advices
|
I Want My ex-Boyfriend Back
|
Liking Starts Here
|
Love
|
Love and Romance
|
Love and Sex
|
Love Consulting Requests
|
Love Letters
|
Love Problem
|
Love Problem Solution
|
My Parents Want to Destroy My Girlfriend
|
Online Love Consulting
|
Online Love Consulting Services
|
Parents Problems
|
Personal Relations' Problems
|
Polite Touches
|
Roommate Finding Services
|
She Left Me
|
She Refuses to Talk with Me
|
Should I Try to Keep this Guy or Push him Away
|
Still in Love with My Ex-Boyfriend
|
Virgin at 19 Confused in Love
|