How to Make Him Feel?
by Gail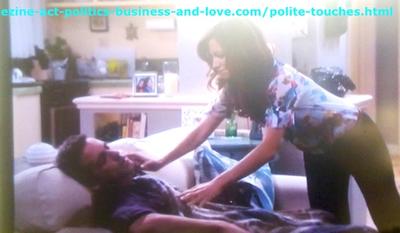 Polite Touches Between Nora Tate, Loren's mom and Max Duran, Eddie's dad in Hollywood Heights.
Hi, my name is Gail and I have been an exchange student in America for almost a year now (since last August).


I joined a Christian fellowship where I came to know this guy in my class. I have had a crush on him since the end of last year (ever since I got to know him better).
So, the problem is that I am a really shy girl and I tend to pretend that I do not feel anything for him and consider him as just a friend. (I do not know why. It is just my character and this is driving me nuts but I just cannot help it!)
And maybe he is not making a move because he thinks that I actually like him as just a friend. But I do think this feeling is mutual. For example, I notice him looking at me several times. He really pays attention, whenever I say anything (even really stupid small things).
But, whenever we actually look into each other's eyes, we pause for a second and then we both turn away and it becomes awkward. He does not really talk to me first, unless he has an excuse to talk to me in front of everybody (We almost always hang out with our mutual friends in the fellowship).
I have asked him to hang out with me often this semester and he always said yes unless he was busy with exams. But it is quite discouraging that he had never asked me first to hang out with him.
He told me once that I am cute (like when we went shopping together with other friends and I tried a shirt on. He said, 'hah so cute!'). He makes lot of compliments, too (I guess not as flattering ones, as I give him haha) and I can feel us both getting tensed, whenever we get close to each other.
He sounds really happy, when I call him (which is actually quite a big move for a shy girl like me)... There are many other things that make me think he likes me too.
The problem is that I want the guy to pursue the girl and I feel like we should talk to each other about our feelings, but then I know I could never ever initiate such a conversation and I doubt he will, either.
I only have three months left until I get back home, and I do not want to be impatient. But, whenever I imagine him being with another girl, it totally hurts and I do not even want to imagine this!
I thought about confessing my feelings at the end of this semester (I am a college student) because I think I
would be more free to tell him, when I know I am leaving the next week. But, do you think I should tell him now that we have more time?
I thought that maybe, if he says he likes me too, that I should ask him to wait for me. I know it is selfish, but I'll be back in America in less than 2 years. So, maybe there is a chance. Should I not ask him, or tell him about my feelings at all? Please help!
* You are here at
How to Make Him Feel
?
* Read the response to this request at
How to Make Him Feel - Comments
.
* Read about other love problems and some more requests at the following links:
Comment C2 Entries
|
How To Tell My Mom about My Love
|
I Want My ex-Boyfriend Back
|
love consulting requests
|
Personal Relations' Problems
|
She Left Me
|
Still in Love with My Ex-Boyfriend
|
* Follow the
Ezine Act Blog
to read updates about love consulting services on this network.
* Best, subscribe to the
Wise Biz
Newsletter to keep connected with this network. You will receive good e-books and e-courses to read, when you confirm your subscription to the newsletter.
* The ebooks and the business courses will improve your language and motivate you to use your passion, even if you were student to build a web
business
that earns you additional income to continue with a solid business, when you graduate. You will not even need to work for a company or somebody else.
* Like, tweet, or share "How to Make Him Feel?" with your social media network and pin the pictures you see on this network.
* See how the following pages could develop your life and make it better:
About Me
|
About SBI
|
Arabic SBI
|
Choose It
|
CTPM
|
e-Learning College
|
SBI eLearning
|
Start Learning from Free Resources
|
Success Stories
|
Things Interest You
|
* Check Love, Site Map 6 with many articles about love at the links below:
Am I Doing Anything Wrong
?|
Bright Letters
|
Bright Letters and Polite Touches
|
Childish Love Experience
|
Dating Services
|
Does She Still Love Him
|
How Do Elephants Kiss
?|
How I Feel the Strong Feeling of Love
?|
How to Choose the Right Girl
|
How to Make Him Feel
?|
I Love My Classmate
|
I Love Two Girls
|
I Need Love Advices
|
Liking Starts Here
|
Love
|
Love and Romance
|
Love and Sex
|
Love Consulting Requests
|
Love Letters
|
Love Problem
|
Love Problem Solution
|
Online Love Consulting
|
Online Love Consulting Services
|
Polite Touches
|
Parents Problems
|
Personal Relations' Problems
|
Roommate Finding Services
|
Sex
|
She Refuses to Talk with Me
|
Should I Try to Keep this Guy or Push him Away
|
Still in Love with My Ex-Boyfriend
|
Virgin at 19 Confused in Love
|