Childish Love Experience!
by Jessica
(Birmingham)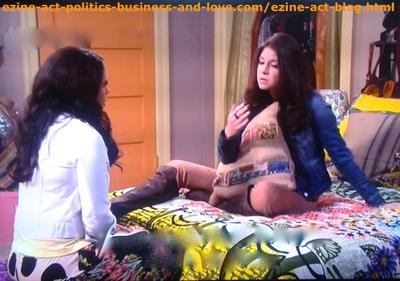 Hollywood Heights, Loren Tate (Brittany Underwood) and Melissa Sanders (Ashley Holliday) Talking about Love Problem Created by Chloe Carter (Cynthia Kowalski) with Eddie Duran (Cody Longo) to Keep her Away From Him.
Jessica wrote from Birmingham in a very long paragraph, "I met this guy and we liked each other straight away. Went back to his place but nothing really happened we slept and hugged and talked and kissed.

When I left I did not leave my tel num as he nearly forgot to ask me. and when he asked me I didnt. I got in touch with him on facebook as I left something in his house. He replied said it would keep it for me and then asked me if we could have hanged out soon.

I replied saying I was in town all week and to let me know when he was available. (I travel a lot for work and he knows) He never replied. I know he is busy opening a new pub but a reply wont take that long. the weekend was his birthday and I didnt wish him".

She said, "It was also my filmed gig in a radio to promote his festival and I thought he was gonna turn up but he didn't.

After a week I wrote to him he got back and said he was sorry but he was busy opening the new pub and apologized for not coming to the radio but he said he didn't know I was doing it till after late and said he was gutted.

I told him I am busy too and i was gonna be away for a while and I would see him 27th for his party where I am playing. Turns up one of my gigs gets cancelled and I go to see a concert of artists who work with me and he is there too.

He keeps on saying let's hang out soon but never gives me a date. He told me he is busy and he is keeping me on my toes.. I am getting bored and dont know if to leave it now.

He kept on looking at me, but stayed away. Then he walked in front of me hand by hand with another girl ( I think she was afriend girlfriend maybe ) but turned around to look at me as he was walking away with her and he was kinda laughing at me and when he saw I was pissed off he hugged her and she also turned aroung and looked.

I found that really childish . he knows I like him, why does he need to be so complicated and do u think he likes me for real? or is he just making me a fool. I am very popular and he is too but I am an artist and everyone is aroudn me all the time. Maybe he did it cause he got jealous I dont know x".

* Comments

Well, this is not the way to write good request. You should write in proper language and provide full details about the problem and about yourselves. To do this, follow the instructions posted on the main consulting pages.

* Are you from Birmingham, Britain?

* Read about locations in the United Kingdom, such as the Thames and write about Birmingham at Any Beautiful City.




Aayush wrote from Surat, "my name is Aayush and i am in Std 12th.Recently my prelim exams are going on and in my examination hall there is a girl sitting behind me in the next row whom i find very attractive and she is in Std 10th.

During the exams we had several eye contacts and always my heart thinks of her all the time and i cannot write my exams.I also send her a FB friend request but she hasn't accepted it.I think that she is also into me but is not expressing herself and i also feel shy in going and talking to her.Please i need serious help".

* Read the comments above.

* Are you from Surat (Suryapur) in the State of Gujarat in India?

Read about Gujarat here and write about Surat at the link to any beautiful city above.

---
Somebody
wrote from Texas, "I texted my crush, pretending to be someone else, and said Don't mess with her heart Bro. He said, I know who this is noob. This is (My name). I'm not a dipshiz. What do I do? It will be so awkard at work tomorrow! Please help".
* Read the comments above.
* Are you from Texas?
Read about locations in the USA at
Battery
,
Big Sur
and
Chicago
. Write about any place in Texas at the link to any beautiful city above.
---
William
wrote from Detroit, Michigan, United State of America about his girlfriend breaking up and said, "My girl broke up with me and I need professional help".
* Read the comments above and provide the required details.
* Are you from Detroit, or any city in the USA?
Read about locations in the USA at
Kauai
,
Mississippi River
and the
North Slope
. Write about any place in Texas at the link to any beautiful city above.
---
Denny
wrote from India, "I want my love back. im a boy of 19 . a girl proposed me.I agreed. she told me everything about her.but later on I came to know that she was in love with someone else too.I asked to her about him . she told me the truth.I cant get far from her.I wanna get her back.what should I do to get her back".
* Read the comments above.
* Are you from India?
Read about Gujarat at the link above and write about your city at the link to any beautiful city above.
---
Someone
wrote from Shimla, "Actually, I invited a very close friend of mine to participate with me in a student competition where a tea of two is required with at least one female. So she agreed".
He said, "Last few days we have been talking to each other; she also is very keenly interested in the competition which is clear as she replied me many idea for the competition. as the deadline for submission is very near, so I asked her if she could come online".
He added, "I also told her some ideas which we can finalize; but since then she did not replied back. I cant even leave the competition mid way like this. I do not want to disturb her by again and again messaging. Please help me".
* Read the comments above.
* Are you from Shimla (Simla), the capital city of the State of Himachal in India?
Read about places in India and write about your city above
---
* You are at
Childish Love Experience
.
* Share the blog and
Forward Wise Biz
to your friends. You'll get good gifts.
* The ebooks and the business courses will improve your language and motivate you to use your passion, even if you were a student to build a web
business
that earns you additional income to continue with a solid business, when you graduate. You will not even need to work for any one else.
* See how you could develop your life at:
About Me
|
About SBI
|
Choose It
|
CTPM
|
e-Learning College
|
SBI eLearning
|
Start Learning from Free Resources
|
Success Stories
|
Things Interest You
|
* Read some other love problems at:
Anonymous Juliet
|
Dating Services
|
How I Feel the Strong Feeling of Love
?|
How to Choose the Right Girl
|
How to Make Him Feel
?|
How To Tell My Mom about My Love
|
I am Jealous
|
I am Not Sure Whether He Loves Me or Not
|
I Love Two Girls
|
I Need Love Advices
|
I Want My ex-Boyfriend Back
|
Liking Starts Here
|
Love Consulting Requests
|
My Parents Want to Destroy My Girlfriend
|
Virgin at 19 Confused in Love
|