Does She Still Love Him?
by Mina Adel
(Cairo Egypt)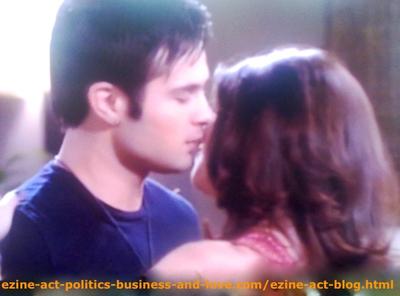 Eddie Duran (Cody Longo) and Loren Tate (Brittany Underwood) in Love on Hollywood Heights.
Mina Adel wrote from Cairo, Egypt, "I do have a crush on a lady who was engaged before to some guy and i told her about my feelings more than one time but she told me before that i have to move on because she doesn't want to be involved in that shit again but the weirdest part is that her ex fiance still in her friend list in the facebook so why she didn't delete. after the separation is that means she still in love with him???"

* Comments

Please, follow the instructions posted on the main consulting pages to write your request properly and provide the requested full details and some personal information.

* Are your from Cairo, Egypt?

Write about Cairo, or any city in Egypt at Any Beautiful City.

---
Azharuddin Lalljie
wrote from Guyana, "parents find out. me and someone really love each other everything was going great although we kept it a secret from our parent but her parent found out and her mother tell us to end it but we really love each other and cant do it".
* Read the comments above.
* Are you from Guyana at the northern coast of South America, or from any other Guyana in the world?
Write about your city at the second link above.
---
Abhijit
wrote from Mumbai, india, "I am married guy and I am banKing in small bank before one year one bank clark send me sms and our affair started in swing but after starting our afair she going very serious we not maintain any physical relation and slowly I also became very serious but after some time she suddenly break up our affair giving reason that she find guilty she think that she think that four life wasted by this affair my wife hand child and her husband nd child after break up she calling telephone and conversion with me after two three days after that I also started telphonic conversion bu some time she speak normal and some time she avoid me and now one month she comple stop calling me I also stop I want my love back pls help me I know its very wrong but I seriously love her pls guide me to get back my love".
* Read the comments above.
* Are you from Mumbai, india?
Read about places in India, such as
Gujarat
and write about your city at the second link above.
---
Somebody
wrote in one long paragraph, "My 1st n last love started in 2004. it ddnt last long as he moved to another city fr higher studies. Soon v broke up though he wantd to keep frnship bt tht was nt possible fr me. This yr aftr 8 yrs I met hm as I came to hs city fr higher studies. After cmng hr I came to knw tht he is in a relationship frm past 2 yrs. I ddnt want to talk to hm bt cudnt stop my heart. V stard talking n I came to knw tht his relationship is gng through a tough phase.o One day he took me to his room fr night stay. V got physical on that day, (not sexually). Tht was the start of the confused relationship as neither he cleard tht if he loves me or nt nor I told hm tht I still love him bt 1 day while I was in his room, he talkd to hs galfrn in front of me n said hr tht he loves hr. I evn found in his lapy tht he was preparing hr prjcts an asgnmnts. Tht was d day I felt I was nowhere in his life n I told hm nt to talk to me nymore. He felt vry bad bt ddmt say nythng. Bt I cudnt stop my heart n contactd hm again. V r again in a relation nw. I want to hv sex bt he nvr proceeds. I want to know if m dng the ryt thing or nt? If he loves his galfrn thn why he talks to me whole nyt daily? Is he doing double timing? If yes thn why he is not using me to full extent. M fully confused. I love hm a lot. I am nt able to clear all this things with him so I am asking advice frm you, please help me out".
* Read the comments above.
---
Jhona
wrote from Bato Catanduanes in a very long paragraph, "still in love w/ my ex. I had my ex..I still love him so much, It's been 2 years since we broke up..but never did I forget him. He was my everything, my first love.. I gave him my all. After our 1st year of break up he texted me saying he wanted to see me I know that time that he had a new gf, I was so depressed that time And I'm badly need someone to talk to, someone who comforts me..Of course when you are so down you are hoping to be w/ someone you love, So i'll take the opportunity to be w/ him for the last time even he's not mine now. And something happened to us I know its a craziness, I've such a fool of giving my self to him knowing I'm just nothing but his ex and he has a gf. But never will I regret of doing that coz I love him that much. Next day after that he went to my house, we talk and he ask me to live w/ him now.. I was so disappointed it's not what I expect from him I expect him to ask me for a marriage..but just a live-in partner is all what he want. I refuse his offer..The few next day her texted me. She was so mad at me..saying bad and insulting word etc... I understand her, Coz I know its my fault I intentionally hurt her. But what hurts me the most is my ex-bf denied me, saying he doesn't ever love me. He always making me feel an unworthy one..I dont understand how could it be.. The one I love the most does'nt love me at all. All those time he was been lyng.. MY family's know him and same with his my family too. so how could it be that it was just a game after all?? After that I tried to forget him, But I still wait for him, I'm still hoping for him.I didnt even see him now. A year after I've known that he already get married and now having a baby. But still it hurts me so much. I still can't move on I want to love again but I'm scared. All I ever want is him, even though he hurt me that much I still love him. I wanted to see him and talk to him. we still have this unfinished business that we need to discuss about.I just have this urge feeling that I wanted to talk to him. So that I will free my self now from his memory. So that I can easily accept the fact that he's not mine now. So that this burden I feel will be gone.What do you think?? is it right to talk to him or just leave him alone??"
* Read the comments above.
* Are you from the Municipality of Bato in the Provence of Catanduanes in the Philippines?
Write about your city in the Philippines at the second link on the page.
---
* You are at
Does She Still Love Him
.
* Share the blog and
Forward Wise Biz
to your friends. You'll get good gifts.
* The ebooks will improve your language and motivate you to use your passion, even if you were a student to build a web
business
that earns you good income to continue with a solid business, when you graduate. You'll never need to work for a company.
* How to develop your life and make it better?
About Me
|
About SBI
|
Choose It
|
CTPM
|
e-Learning College
|
SBI eLearning
|
Start Learning from Free Resources
|
Success Stories
|
Things Interest You
|
* Read love and some problems at:
Aphrodite of Quebec
|
Dating Services
|
How I Feel the Strong Feeling of Love
?|
How to Choose the Right Girl
|
How to Make Him Feel
?|
How To Tell My Mom about My Love
|
I am Jealous
|
I am Not Sure Whether He Loves Me or Not
|
I Love Two Girls
|
I Need Love Advices
|
I Want My ex-Boyfriend Back
|
Love
|
Love Consulting Requests
|
My Parents Want to Destroy My Girlfriend
|