Enjoy Buchi Emecheta's Nigerian World!
Wonderful world in Buchi Emecheta's well plotted stories. However, it is very necessary to see the nation through secular eyes, but not religious or tribals. Enjoy and share the literary works of the Nigerian female writer.
I was astonished the first time I read the literary works of this renowned Nigerian female writer early in the 1980s in Kuwait, while I was journalist in the Kuwaiti newspaper Al-Watan taking care of the African issues.
I wrote a covering review to her "Destination Biafra" in the cultural supplement of the Kuwaiti newspaper, Al-Watan, where I had worked before moving to the political section of the newspaper.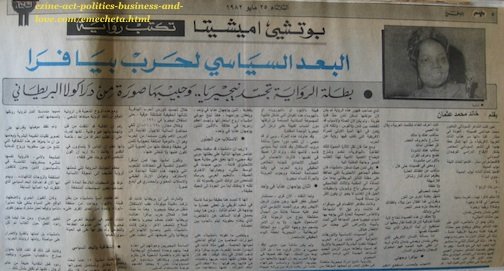 She was born of Ibo parents in Nigeria, and is widely known today for her multilayered stories of black women struggling to maintain their identity and construct viable lives for themselves and their families.
She writes, according to The New York Times, with "subtlety, power, and abundant compassion." George Braziller is proud to have published nine of Emecheta's novels for over twenty four years.
I was journalist in that newspaper for several years since the day I fled Iraq, when the Iraqi political system shifted and Saddam Husain came to power through his white coup during the late 1970s.
When I read her novel, I wrote to George Braziller, but never got a response, even for the second time I mailed them during the 1990s.
I had concerns involving many African issues that range between culture and politics, all of which had started earlier in the 1970s and before I escaped the harassment of the second dictatorial regime in Sudan.
The first time I read the novel, I felt the tribal complexity of the Nigerian society, because I have grown up in a society with the same anthno-cultural complexity and I have learned from it how to manage it.
I felt as many African nationals who have that feeling of African nationalism, or as we call it Africanism... and I have bitterly swallowed the sorrow with them.
I lived, as Buchi Emecheta did the bitter moments during many disturbing political events. But, I understood the deterioration was and as continues to be the outcome of the political illiteracy.
I know, as Buch Emecheta, Chinua Achebe (see Chinua Achebe's World here) and many literate Africans know, since long time ago everything about the planned development of the political situations, during the last era, before the European colonization departed from the continent.
We understood how the colonial powers have planted this policy of complexity deep under the Nigerian soil. They also did that elsewhere in Africa to emerge in the recent tribal crises and even genocides and wars.
All of that has engulfed the continent, since the earliest independence days, from the north to the south following the British vertical colonial zone and from the west to the east following the French colonial belt.
Well, the tragicomedy of politics has always been the mantra that drive the African societies in the planned illiteracy circle, either by the colonial powers, or by the national sectarian, religious and military elites.
It is not strange to see unity in the economical, political and social problems in Africa. Some of those problems are very clear in Buchi Emecheta's Destination Biafra.
Besides, she had lived some of those problems while she was a child and young woman, passing through horrible moments in her life before she fled her country to Britain.
However, Destination Biafra is not the only brilliant account of her literary work. I found the "Slave Girl", "The Bride Price" and "The Rape of Shavi" to be of more importance than other works she has done earlier or later.
Writing about her society, Buchi Emecheta outlines the challenges faced Nigeria during and after the independence of the country. She attracts all the future to look at the past and especially to the Biafran crisis with an open eye.
The impulse of the story goes through symbols; Buchi Emecheta has successfully presented through them a Nigerian point of view to the events.
Buchi Emecheta's Literary Works!
Buchi Emecheta has published the following books, as they appear by dates.
Joys of Motherhood - January 1980
The Bride Price - January 1980
The Slave Girl - January 1980
Second-Class citizen - February 1983
The Moonlight Bride - February 1983
Destination Biafra
Double Yoke - July 1985
The Family - April 1990
The Rape of Shavi - November 1990
Head Above Water - February 1994
In the Ditch
Kehinde - February 1994
The New Tribe
The Wrestling Match
Please see more details here at the Ezine Act's Bookshop. Select the name of the Nigerian novelist Buchi Emecheta or othe Nigerian novelists from the navigation bar at the left on that bookshop. You can always refer to this link to read more.
Useful Resources: Samples of Buchi Emecheta's Works!
The Joys of Motherhood (AWS African Writers Series)
Some critics say Buchi Emecheta, writes with piercing teeth and gouging fingers. They even add, "Irony, sarcasm, and anger are her appendages".
Did that happen because of her personal hard life before and during the period she left her country?
She saw her life through orphanage, arranged marriage, immigration to England, five children when she was 22, marriage terminator, single mother acquiring degree in sociology and messaged writer.
All of that has gestures in her novels and specially, whereas the setting for "The Joys of Motherhood" is in Lagos, Nigeria, between the 1930's and the 1960's. The capital of the British colony of Nigeria, Lagos is primarily Yoruba while the main characters are Igbo.
Citations and Notes
Well read these expressions.
"God when will you create a woman who will be fulfilled in herself, a full human being, not anybody's appendage?"
Motherhood: "When the children were good they belonged to the father; when they were bad, they belonged to the mother. Every woman knew this."
"Men here are too busy being white men's servants to be men. We women mind the home. Not our husbands. Their manhood has been taken away from them. The shame of it is that they don't know it. All they see is the money, shining white man's money".
"You are simply not allowed to commit suicide in peace, because everyone is responsible for the other person.
Foreigners may call us a nation of busybodies, but to us, an individual's life belongs to the community not just to him or her. So a person has no right to take it while another member of the community looks on. He must interfere, he must stop it happening."
"For me to be married to a soldier, a plunderer and killer of children.... I don't know how I would feel if I was asked to kill people who had never offended me."
Commentary on Buchi Emecheta's Works!
In the classical tribal environment in Africa most men had this notion. It rarely exists today. But, let us discuss it. The notion came from the way women and especially grandmothers, whether they belong to the mothers or the fathers live controlled by men and how they treat children despite males' domination.
Even in this regard, the notion in many countries is that grandmothers who belong to fathers are more tough than those who belong to the mothers.
Now this is the general orientation. Men consider that mothers are so kind and weak creatures. Therefore they nurture and raise their children softly. So, the children grow up 
That misunderstanding leads to this impression, which is wrong. It does not depend on deep reading to the traditional culture of this society and thus analyzing its impacts on the generations.
Buchi Emecheta has missed that. Therefore, expressing this notion remains impressionist. Could we classify this literary artwork as realistic impressionist?
Is that all Buchi Emecheta saw on Nigerian males? Where were those Nigerian patriots who struggled hard to get the independence of their country?
Why did Buchi Emecheta generalize wrong understanding? Did she write that as a Nigerian writer from a Nigerian soul (brain and heart), or from a British brain?
Even a Briton writer could see more values in this society and when s/he comes to bad customs and rituals, s/he could write positively and rationally to educate. Most of all s/he could avoid generalization.
There are still many men who are still have that British feeling, seeming to be black Briton, but they would never be. Nationalism is not something changeable.
They could have good eduction, good understanding and then good ambitions to improve their societies by amending bad customs and ways of living.
However, that was just a novel. But, when a novel takes personal citations, like those of Buchi Emecheta's, it would become oriented towards imposing the wrong personal impression and supporting the wrong notions.
Men are not the devil. Women are not the angels. However, women in theology are ribbons from men's chests and those ribbons were taken during the first creation of the human beings for good to create women to be soul-mates of men.
However, there are some good citations in the contextual during the colonization and the time of the forced draft of Nigerians into the army during World War II.
The Bride Price (Oxford Bookworms Library, Stage 5)
Aku-nna and her young brother have always that fear no one would look after them when their father dies. They are welcomed by their uncle because of Aku-nna's 'bride price', which was the money that her future husband will pay for her.
She found one kind man to teach her In her new, strange home to become a woman. So they soon fell in love, despite that everyone thought he was not a suitable husband for her.
The more the world tries to separate them, the more they are drawn together - until, finally, something has to break.
Second-Class Citizen
This is a poignant story of a resourceful Nigerian woman who tried hard to overcome strict tribal domination of women.
She in fact fought hard against countless setbacks to achieve an independent life for herself and her children and to be successful.
In addition to Buchi Emecheta, you may also be interested in the Ezine Acts Articles (site map 9 A), with its extension into Ezine Acts Articles Section (site map 9 B), Ezine Act Articles Index (site map 9 C), Ezine Articles (site map 9 D), Submit Articles (site map 9 E) and Submit Ezine Articles (site map 9 F).
Some of the articles in these site maps above and this page about Buch Emecheta are also relevant to the site map 11 A, Ezine Acts Art Links, with its extension into Ezine Acts Art and Culture (site map 11 B), Ezine Acts Fine Arts (site map 11 C), French Paintings (site map 11 D), Ezine Acts Literature (site map 11 E) and Ezine Acts Photo Gallery (site map 11 F).
Ezine Acts Arts and Cultures:
Ezine Acts African Art| Ezine Acts Art Essence| Ezine Acts Art Stores| Ezine Acts Caricatures| Ezine Acts Cartoons| Ezine Acts Exhibiting Online| Ezine Acts Freelance Photography| Ezine Acts Paintings| Ezine Acts Photography| Ezine Acts Sell Paintings Online| How Do Elephants Kiss?| Malerier| Sudanese Art| Sudanese Customs| 10 Hints to Exhibit Your Artwork Online| Texting|
Ezine Acts Dance, Music, Songs and Videos:
Dance Schools| Ezine Acts Dance| Ezine Acts Music| Native Americans Videos| Red Indians Videos| Salsa Samba Dances| Sudanese Music| Sudanese Song|
Ezine Acts Digital and Video Products:
Audio Products| Digital and Video Products| Ezine Acts Video| Ezine Acts Video Converter| Ezine Acts Video Games| Ezine Acts Video Shows| File Converter Software| How to Produce Cable TV Spots?| Inventory Videotaping Business| NTI Home Video| Special Event Videos| Video Talk| Videotape Rental Store| Videotaping Ideas| Videotaping Service| Videotaping Weddings| Weddings Photography| Windows Movie Maker|
Ezine Acts Literature and Writing:
Adventures of Tintin| Arabic Phoenix Poetry| Arabic Poems| Article Writing| Bilingual Websites| Ebook Publishing Articles| Editing and Publishing| Ezine Acts African Literature| Ezine Acts Language Translation| Ezine Acts Multicultural Project| Ezine Acts Publishing| Headlines| Phoenix Order| Resume| Self Publish Book| Wakening of the Phoenix| Write Arabic Webpages|
French Paintings:
Claude Monet| Edouard Manet| Henri Matisse| Jean Bernard Carillet| Jean Honore Fragonard| Paul Cezanne| Paul Gauguin| Pierre Auguste Renoir| Raoul Dufy|
If you found this page about Buchi Emecheta useful, please tweet or like it and pin the Ezine Acts Pictures at this page and at the Ezine Acts Galleries, the Ezine Acts Photo Gallery and Pictures for Your Website. Use the small buttons you see on the page. Thanks.
To see parts of Buchi Emecheta's world link to beautiful places in Nigeria at the Niger Delta. You can also write about beautiful places in Nigeria there and upload pictures. Thanks.
The following website building, automating, optimizing and monetizing tools empower this page about Buchi Emecheta and the Entire Ezine Act at Khalid Osman's Network. You can use them too, to empower any literary interest you have.

---
Blogging for Pleasure
|
Business Strategies Cat.
|
Collective Consulting Services
|
Comments
|
Digital and Video Products
|
Email Marketing Media
|
Ezine Act Blog
|
Ezine Act, Politics, Business and Love
|
Ezine Acts Associate Programs
|
Ezine Acts Biz Marketing
|
Ezine Acts Business
|
Ezine Acts Business Financing
|
Ezine Acts Business Forums
|
Ezine Acts Business Publicity
|
Ezine Acts Comment C2 Entries
|
Ezine Acts Comments
|
Ezine Acts Discussion Board
|
Ezine Acts Forums
|
Ezine Acts Game Site
|
Ezine Acts Home Business
|
Ezine Acts Humanitarian Network
|
Ezine Acts Inspirational Articles
|
Ezine Acts Inspirational Sites
|
Ezine Acts Internet Marketing
|
Ezine Acts Love Commentaries
|
Ezine Acts Love Entries
|
Ezine Acts Love Stories
|
Ezine Acts Motivational Articles
|
Ezine Acts Motivational Sites
|
© All rights reserved. HOME-BIZ-TRENDS.COM is one of Khalid Mohammed Osman's Networks.