Videotaping Ideas!
A Florida video-grapher used some videotaping ideas and produced a "How To" wedding planner tape and sold over $250,000 worth of videos in just 12 months. That was a WOW kind of business at that time, when videos were in VHS and Betamax and then in American format NTSC started in 1953 and referred to the National Television System with the analog it laid out.
Well, the ideas of any videotaping business here are about producing videos, whether you do it following the classical video production using classical tools to produce classical video formats, or you just want to use a new camcorder to produce videos in the new video formats.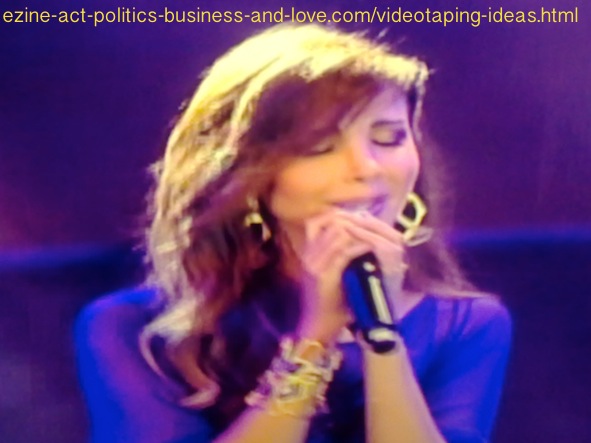 Videotaping Ideas: Beautiful Arabian singer, Nancy Ajram singing.
The VHS home video cassette in this format was made by JVC in 1976 and is larger than the Betamax. The Betamax format was a 12.7 mm home video format cassette Sony used for magnetic tape recording in 1975 and referred to it as Beta consumer analog videocassette.
But, now home videos have changed to DVDs, which are more better than Betamax and VHS. At the same time the development continued to produce small videocameras and many good camcorders have been produced by many companies.
So, the video formats have changed into new video formats,  summarized such as "flv", "avi", "mpeg", "mp4", "swf", "wmv" and other formats.
The collections of articles that show you how to use your camera to produce good quality videos, or pictures are written to follow the classical video formats.
While you can skip this, the information is so good to work on to make additional income from videos and even from new business ideas about producing videos using good camcorders from Canon, Sony, Hitachi, or any other company.
Think about it this way: If you sell your video for $25, all you need to do is to sell around 80 videos a week, or 325 videos a month to gross $100,000 a year.
A typical "small" production can sell as much as 1,500 videos a month, or 18,000 units a year, at $25 each. Research your market to make sure of the figures while you are studying the supply and the demand and think of better ways to do something unique in this field. Discover new videotaping ideas and then work them out.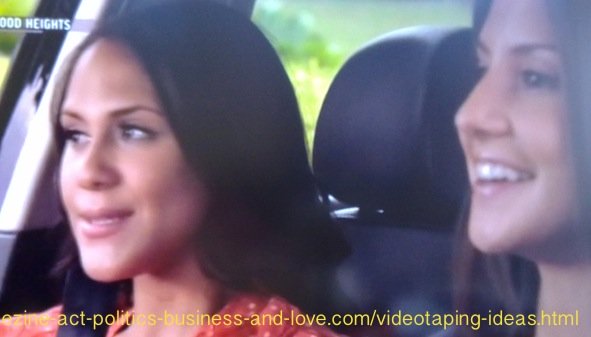 Videotaping Ideas: Loren Tate (Brittany Underwood) and Melissa Sanders (Ashley Holliday) driving to attend Eddie Duran's musical concert in Hollywood Heights.
Consider the subject - It's the topic, which is the most thing you want to consider. If there is one single factor that makes or breaks a "How to video", make sure it is the topic.
So, look after the most things that interest you and other people in the entertainment field to take one of them, as the choice of topic to make your guidance better.
Consider the length - Another factor to consider is the length of the material. To remain interesting the average how to video must be fast paced and relatively short not exceeding 45 minutes.
More successful videos are no more than 30 minutes long as this is a tolerable length by which a video can effectively cover a topic and remain interesting.
Consider the duplication - If you were concerned (and you should be) about the duplication cost, notice that the length of your video also affects your duplication cost. The better your video and short it is, the more you escape the duplication cost and increase your profitability.
Consider the shots and formats - Who's going to do the shooting? If you decide to do it yourself, where will you get the camera? What format are you going to shoot it in?
The video format is critical, so look for the preferred video formats. Do, a good search to decide according to the demand. You should always consider the demand factors to start just anything you want to sell.
In the past, the average cost of renting a 3/4 inch U-Matic camera, with wireless mics, and standard lighting equipment is around $495 a day. A camera person with an assistant will cost an extra $250. Nowadays, you only need the best camcorder to do all of that for the shots and the audio.
Consider the Editing - Once you've shot all the footage you need, you edit the work, assembling the footage in an orderly and coherent fashion that will effectively deliver the thought.
Depending on how you shot your footage, editing can take 20 to 50 times the estimated finished length of your video. This means a 10 minute video may take 4 to 5 hours to edit, and so on.
With the new camcorders, you don't need to worry about that so much. You can do good editing and skin your production using your computer and some video editor software, such as the File Converter Software, iMovie, NTI Home Video, Video Converter and Windows Movie Maker.
In the past, studio time ranges from $40 to as much as $100 an hour, depending on the special effects you want to have available for your editing project.
Search for that right now, if you wanted to take your how-to videos this way. Skip to use the technical requirements for this kind of production using the modern video production with the tools mentioned above.
Packaging full color printed sleeves start at around 40 cents a piece if you order 1,000 or more. You also need face labels on your tapes, as well as shrink wrapping for protection.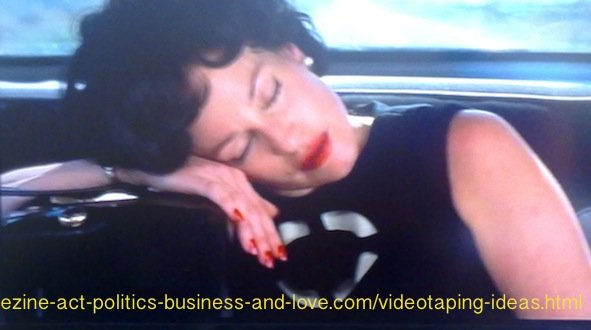 Videotaping Ideas: Melanie Griffith Crazy In Alabama. Very exhausted and trying to relax.
Other videotaping ideas:
Video Yearbook:
The video yearbooks are growing in popularity. They usually consist of short scenes of important high school events, such as sports, clubs, candid "people scenes," still photo montages, and other memorable items for the students.
A well-edited hour-long video should be able to be sold for $15 to $30, depending upon the editing complexity of the video and the size of the school.
The larger the school, the more you can expect to sell. You should first contact the school administration with this idea. Put together a good presentation for them, explaining your services and how your video yearbook will work with the regular yearbook as an added remembrance.
A good videotaping idea is to offer to donate a portion, $2 for example, per tape sold to a school fund or student-supported charity. After the administration, you will probably need to speak to the school board, principals, and school yearbook sponsors. This work will be worth it, though.
Try to include in your tape, from time to time, current events or subjects which will remind the viewers about what was going on at the time they were in school.
One caution, though. Be careful about including copyrighted items, such as popular songs, in your tape. You will need to get permission from the copyright holders or risk legal action.
The best way to sell your tape is to obtain permission to distribute a flyer to the students in the school at the same time as the regular yearbook information is distributed.
Then, follow up later in the year, giving those who haven't ordered yet another opportunity. Finally, give another chance at the end of the school year.
From time to time, go to the school and shoot material. Get sporting events, clubs, quiz bowl tournaments, science fairs, special events, pep rallies, ordinary day-to-day video, and, of course, graduation.
If you're ambitious, do a video yearbook for each class! That way, students can end their high school years with a four-video set, documenting that time of their lives from start to finish!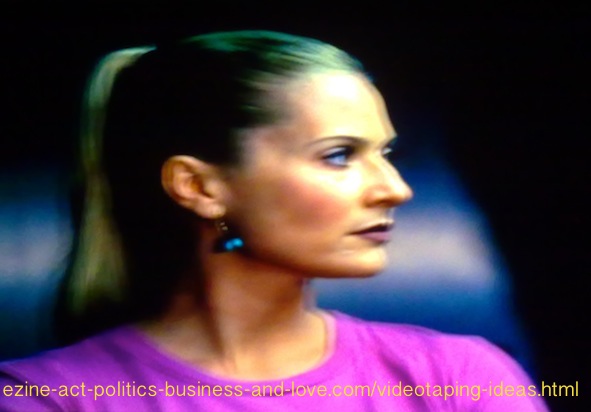 Videotaping Ideas: Emily Procter, Calleigh Duquesne in CSI Miami, just before Horatio Caine started the CSI new lap.
More Videotaping Ideas?
Dubbing and Duplication:
Here's an easy service to offer. With a film-to-video transfer device, commonly available for under $100, and a movie projector, you can put customer's old home movies on video tape.
There are a few different types of transfer devices available. The best place to check would be your local quality camera shop.
You should be able to charge around $20 per hour of film for this service. A good videotaping idea is to add background music to the home movies. Copyright-free music is widely available on CD. Check advertising and marketing magazines such as Advertising Age for ads.
You can also offer a duplicating service for customer's home videos, so they can give relatives (or America's Funniest Home Videos) a copy.
You can usually charge a flat fee for this service, depending upon the length of the tape. Editing together still photos is also a good service to offer, particularly to people who travel frequently.
There are many other areas just starting to be tapped as, video resumes, video postcards, and even video wills. If you come up with a good original videotaping idea, research the market for it.
If you find a reasonable amount of people will be interested in your new videotaping service, you may just have a winner on your hands!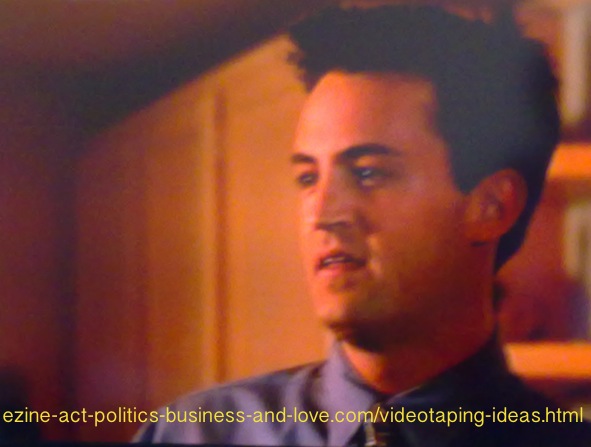 Videotaping Ideas: Matthew Perry in Fools Rush In.
In addition to the business videotaping ideas, the following articles in the Digital and Video Products site map 17 provide you with more videotaping ideas:
Audio Products| Digital and Video Products| How to Produce Cable TV Spots?| Inventory Videotaping Business| Special Event Videos| Video| Videotape Rental Store| Videotaping Ideas| Videotaping Weddings|
Additional Videotaping Ideas:
Dance| Editing and Publishing| Exhibiting Online| Freelance Photography| French Paintings| Native Americans Videos| Paintings| Photography| Publishing| Red Indians Videos| Salsa Samba Dances| Sell Paintings Online| Sudanese Music| Sudanese Song| Video Games| Video Shows| Weddings Photography|
If you found videotaping ideas useful, please tweet it to Twitter, pin the pictures, or share it with your other social media services. Thanks.
Use the following comments form to comment on videotaping ideas and add your comments to the Comment C2 Entries.

Contribute and Let's Know More!
Contribute, share your opinions about what you read and build your own pages here. It is easy! When you submit the form, get your gifts from the next page. Use them to make your life more better.
Comments on VIDEOTAPING IDEAS appear at the second section of the page above, when you or other visitors use the form to do that.
---
Ezine Act, Politics, Business and Love
|
Ezine Act Blog
|
FAQ
|
Collective Consulting Services
|
Consulting Services
|
Free Consultation Services
|
Online Free Consulting
|
Online Free Consulting Services
|
Online Political Consulting
|
Political Consulting Services
|
Online Business Consulting Services
|
Small Business Consultancy
|
Online Love Consulting
|
Online Love Consulting Services
|
Consulting
|
Consulting Question
|
Consultation Services
|
Love
|
Home Business
|
Email Marketing Media
|
Humanitarian Network
|
Free Website Traffic
|
Inspirations and Motivations
|
Motivational Articles
|
Motivational Sites
|
Inspirational Articles
|
Political Section
|
Articles
|
Articles Section
|
Ezine Act's Articles Index
|
Website Maps
|
Art Links
|
Khalid Osman's Network
|
Games Sitemap
|
Business Financing
|
Business Forums
|
Biz Marketing
|
Wise Biz Newsletter
|
Wise Biz Marketing
|
WBM
|
Newsletters
|
Home Based Business
|
Money Making Mechanisms
|
Love Letters
|
Love and Romance
|
Bright Letters
|
Bright Letters and Polite Touches
|
Polite Touches
|
Sex
|
Wise Biz
|
Forward Wise Biz
|
Ezine Act
|
Ezine Act's Bookshop
|
Ezine Act's Forums
|
Ezine Act's RSS Feeds Center
|
Why Using a Newsreader
|
RSS Blogging Ezine
|
Ping and RSS
|
Ping and RSS It
|
Feeds
|
RSS
|
© All rights reserved. HOME-BIZ-TRENDS.COM is one of Khalid Mohammed Osman's Networks.