I am Late in Love!
by Shenya
(Colombo, Sri Jayewardenepura Kotte, Sri Lanka)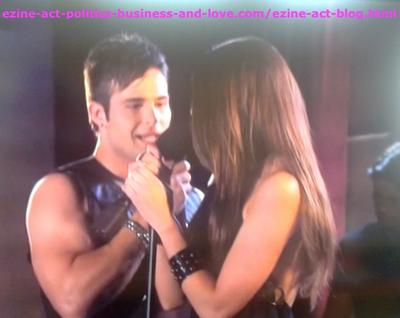 Eddie Duran (Cody Longo) and his Love Loren Tate (Brittany Underwood) Singing Together One of his Songs in Hollywood Heights.
Shenya wrote from Sri Jayewardenepura Kotte in the Democratic Socialist Republic of Sri Lanka, in one long paragraph, I divided here, that, "sometimes, you don't know what you have until you have lost it".

She wrote, "I am 19 and I was in a relationship with this guy last year. But, I never really had feelings for him because I was not over my ex. I started that relationship because I wanted to get over my ex".

"We had our relationship for couple of months. During that time I realized how good he was and how much he loved me. He was way better than my ex and I felt that he really honestly loved me".

"So I decided to end the relationship because I knew that I am doing a wrong thing. He was very heartbroken, when I told him the truth. But, there was nothing that I could do. I had to break up with him because I didn't love him".

"After we broke up we still kept in touch and spoke to each other almost everyday. During that time he didn't hesitate to tell me how he felt about me. He told me that he still loves me and that he is ready to wait for me".

"There were times when I hurt him emotionally. But, he never complained. After sometime we were both busy in our own lives and we couldn't keep in touch like before. But, we did talk and he used to send me texts and all".

"During this time I really felt lonely and I was depressed for a long time. I couldn't really figure out what was wrong with me. Eventually, I realized that I was in love with him".

"I just couldn't stop thinking about him and about the times we were together. I decided to tell him how I feel. But, one day I got to know that he was dating another girl. I was so sad and I didn't know what to do".

"I decided not to tell him how I felt because I didn't want to cause problems between him and her. But, I did ask him about that girl he was dating. He told me that it was true and that he was seeing someone new".

"He told me that he is not in love with her and that he does not get the feeling he got for me for her. I would believe him, if he didn't put so many photos of him and her on Facebook".

"It really hurts a lot to see him with her, even if he is not in love with her. So I am now so confused and unhappy because of this. I can't really think about someone else right now. I know it was my own fault that he went away, but I need one chance to correct my mistake. Please, tell me what I should do".




* Are you from Sri Jayawardenapura Kotte, Sri Lanka?

Write bout it, or about Any Beautiful City in Sri Lanka and upload pictures from it.

---
Elena Sta.Maria
wanted to overcome her problems with her husband. She wrote from Batangas, Philippines in one short paragraph, I divided her, "I am a married woman. We were together almost 8 years. Recently, I feel I need space".
"I need to stop this relationship. I felt I'm tired. I don't know what has happened, but I don't love him now. Yes, I can't continue my life with him, because it's hard for me and for him. We always fight, even because of small things. Please, help me. Give me advices to escape this relationship"
* Are you from Batangas, Philippines?
Write about it, or about any city in the Philippines & upload pictures from it using the second link above.
*
Comments
You all didn't follow the guidelines to submit good requests. Follow the guidelines.
---
* You are at
I am Late in Love
.
* Use the form at
Forward Wise Biz
to forward the website to your friends. Encourage them to share the site with the social media services. You'll receive good e-books and e-courses to read.
* When you go through the ebooks & e-courses, you'll discover how to use your passion, even if you were a student to build a web
business
.
Then you'll earn additional income to continue with a solid business, when you graduate. You'll never need to work for a company or anyone else.
* See how you could develop your life & make it better:
Choose It
|
Things Interest You
|
* Check some problems below:
Am I Doing Anything Wrong
?|
Am in Love, But Not Sure
|
Best Friends Love
|
Childish Love Experience
|
Comment C2 Entries
|
Complicated Love Relations
|
Complicated Love Story
|
Confused - Right or Wrong
?|
Confusing Love
|
Does He Truly Love Me
?|
Does She Still Love Him
?|
Friendship and Love
|
Full Information
|
His Ex-girlfriend Makes Him Feel Bad
|
Hopeless Love
|
How Do I Forget My Love
?|
How I Feel the Strong Feeling of Love
?|
How to Choose the Right Girl
?|
How to Fall in Love Again
?|
How to Make Him Feel
?|
How To Tell My Mom about My Love
?|
I am an Amateur in Love
|
I am Jealous
|
I am Not Sure of My Feelings
|
I am Not Sure of My Sexuality
|
I am Not Sure Whether He Loves Me or Not
|
I am Unable to Control My Girlfriend
|
I Love Four Boys
|
I Love My Classmate
|
I Love My Teacher
|
I Love Two Girls
|
I Need Love Advices
|
Infatuation
|
Intense Love Connection
|
I Want My Boyfriend Back
|
Love at first sight
|
Love Consulting Requests
|
Love or Just Friendship
?|
Love Problem
|
Love Problem Solution
|
My Boyfriend Loves Another Girl
|
My Parents Want to Destroy My Girlfriend
|
New Love Story
|
Online Love Consulting
|