Love at first sight?
by Nicki
(Seattle, WA, USA)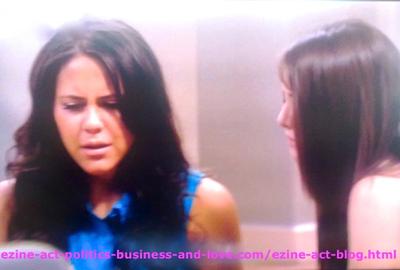 Melissa Sanders (Ashley Holliday) Feeling Pain and Sorrow While Telling her Best Friend Loren Tate (Brittany Underwood) about her Real Mother.
Nicki wrote from Seattle, WA, USA, "I am 20, a college student. I usually come to a sushi bar near my school, and I am a common customer. Once, my friend and I came in and a guy turned to me. He was supposed to greet us but right at the moment we saw each other, I felt that everything just stopped for a while…"

"I couldn't even think, my mouth was numb I guess. We just looked at each other; everything surrounding me seemed to be invisible. I felt that a waitress came to us and asked "table for 2?" but I couldn't stop looking at him".

"That moment lasted for like 2 or 3 seconds but I felt so embarrassed. I feel he's familiar although he doesn't look like any guy I met before. I feel like we're pretty close and have known each other before".

"Since then, I come to that place as usual, and I kind of know his working schedule. Up to now, I must say that every time I see him, I still feel something really strong. I accidentally saw him looking at me while he was working, twice".

"I wonder if he felt the same at the first time we met. The last time I went there, he looked at me much more than I thought. I want to have a real serious conversation with him and I want us to start to know more about each other".

"Well, I don't think I'll have a chance because we can only meet at the restaurant. I wish he could be my classmate or goes to the same school with me".

"Is it normal to talk about something to a waiter? I can't. I can't come up with anything. Should I just let it go or start to do something real? I don't want to push this the way I want but also don't want to miss this chance either. Please help me…"




* Comments

The length of the problem is good. However, there's still some information missing. Please, follow the instructions on the main consulting pages.

* Are you from Seattle, Washington, USA?

Write about the beautiful part of your city, or Any Beautiful City in America.

Read about places in America at: Battery| Big Sur|

Read and write about your favorite Hollywood movies at http://www.iwatchbestv.com/amazon-best-tv.html.

* You'll get some gifts, when you write. The gifts are good to help you discover how to use your passion, even if you were a student to build a small business on the internet. You'll know exactly how your own passion generates income step by step.

Then you'll earn additional income to continue with a solid business, you love to do. You'll never need to work for a company or someone else.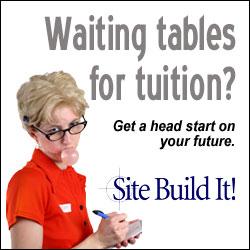 * See how you could develop your life and make it better:

Choose It| CTPM| Things Interest You|

---
Somebody
wrote about "one sided love" in brief saying, "I met this guy on my brother's wedding. He's my brother's friend. When I saw him, I fell in with him. My problem is that, I don't know that he even likes me or not".
"I just want him to be mine. But, I don't know how? I can't even say to him, (I Love You) because I am afraid that he will tell my brother. If my brother knew about that, then he will kill me. I don't know what to do. Please help me".
* Read the comments above.
---
Anjali
wrote from Hyderabad, India, in one paragraph, I divided here, "I love one boy who is my best friend. We both are studying Btech together. We were friends for 4 years. After those 4 years I felt that I love him".
"Then, I proposed him. He accepted my love. But, I had so many problems with him after that. He doesn't understand my feelings. We had been happy in only three months of our love relation. After those three months, I feel that he hates me a lot".
"I didn't know the reason. He escapes from me every time I ask him. It is now one year that he doesn't talk with me. He even scolds me, when I cal to him. I don't care, so I keep calling him to know why he reacts like that".
"I cannot live without him. I love him madly. I cannot control my self and I feel very bad when I didn't talk with him. What should I do for him?"
* Write as long as you could to provide more details and personal information.
* Are you from Hyderabad, India?
Write about your city, or
Any Beautiful City
in India and read about
Gujarat
.
---
Kajal
wrote from Mathura, Uttar Pradesh, India in two lines, "I love a boy since one year. He also loves me. But, he said that he'll love me after 10 girls. I can't wait for that because I love him too much. What can I do?"
*
Comments
Write as long as you could to provide more details and personal information.
* Are you from Mathura, Uttar Pradesh, India?
Write about your city at any beautiful city link above.
---
* You are at
Love at first sight
.
* Check some problems below:
Am I Doing Anything Wrong
?|
Am in Love, But Not Sure
|
Childish Love Experience
|
Complicated Love Relations
|
Complicated Love Story
|
Confused - Right or Wrong
?|
Confusing Love
|
Does She Still Love Him
?|
His Ex-girlfriend Makes Him Feel Bad
|
How I Feel the Strong Feeling of Love
?|
How to Choose the Right Girl
?|
How to Fall in Love Again
?|
How to Make Him Feel
?|
How To Tell My Mom about My Love
?|
I am Jealous
|
I am Not Sure Whether He Loves Me or Not
|
I Love Four Boys
|
I Love My Classmate
|
I Love Two Girls
|
I Need Love Advices
|
Intense Love Connection
|
I Want My Boyfriend Back
|
I Want My ex-Boyfriend Back
|
Love Consulting Requests
|
Love or Just Friendship
?|
Love Problem
|
Love Problem Solution
|
My Boyfriend Loves Another Girl
|
My Parents Want to Destroy My Girlfriend
|
Online Love Consulting
|
Online Love Consulting Services
|
Parents Problems
|