Political News / Refugees Desk!
Political News!
An Open Message to the Danish Authorities:
"I'm not sick," the colonel said. "The problem is that in October I feel as if I had animals in my gut." – No One Writes to the Colonel, Gabriel Garcia Marquez.
Well, I am saying too, "I'm not sick," and not pausing at all I am adding, "The problem is that in Summer I feel as if I had animals in my gut."
These new regulations are without a soul! Stop them! This is the first call in the political news. Stop them because they create hatred, but not well planned integration.
There are mistakes deep in the system but… they don't hear; totally deaf!
In a message I have received from Amnesty International, the human rights organization says the Danish government is not up to its international obligations regarding political refugees.
This is a FULL STOP! ... STOP IT!
The second FULL STOP is this ---> see humanitarian here.
The UN Obligations
"I am still struggling! I don't know when I'll say it's enough for me, as I am struggling since more than 30 years." One of the political refugees in Denmark told me! He was a professional journalist and chancellor.
I felt sympathy with him. He has not any nationality, as the dictators in his country has denied him this nationality. He has not legitimate papers as other Danish, though.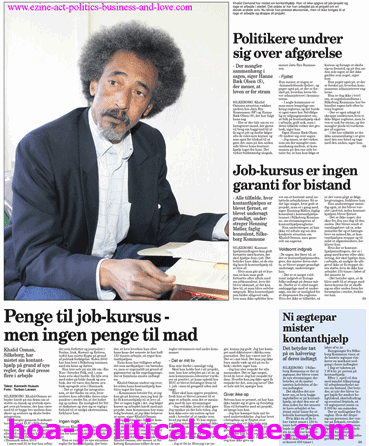 The Political News Story!
The point is that he couldn't be treated as a Danish. There is no logic in it at all, since he is neither Danish, nor a person of his own nationality. He considers himself an international person.
The other point is that the DF, which is a sort of egoistic party and other parties in the liberalism atmosphere in the country as a whole want him to live like that.
Not only him, but all political refugees who came to Denmark through the UN in January-February 2001. The procedures to grant Danish passes have stopped when the liberals came to power in 2001 and dramatically shifted the tolerance policy because they don't have any sense of the art of prime ministering.
They revert and changed the laws to not give any grant to Danish status since that date, although those refugees came during the social democrat's term.
The political refugee thought to get back to Geneva after 5 years, but from Denmark this time to prove that his situation has not been improved since the day Geneva saved him from a turmoil in Africa. He told the political news desk.
If he happened to live these years in any neighboring country to Denmark, such as Sweden, Norway, Holland, or even Germany he could possibly have the nationality in these 5 years without any condition. So, the question is, is Denmark better than those countries? Or is it just egoism?
He saved, "I'll not stop fighting dogmatism!"
"Are some countries where refugees acquire resettlement are more humane than the others?" Another political refugee asked me!
He referred to cases in Sweden and Holland, where refugees acquire passes in five years and without any conditions.
I have sympathy with him and felt also, I'll not stop fighting dogmatism wherever it exists.
Well, we have got strong debate going today here in the lights of the 1951 Convention and the 1967 Protocol relating to the Status of Refugees.
The debate is about the obligations of some signatory states under these two conventional rules to pave the way for intellectual refugees to carry on their professions and establish their own network on the ground.
"Unfortunately," A political refugee said to (Refugees Desk/Political News) at (Refugees' Alert Network), "there are some figures in the political decision making circles, who are not pleased to see any intellectual refugee, working hard to build a future out of long term careers for his or her family."
OK, do they consider those political refugees humans or not?
"They offer nationalities easily for some girls from southeast Asia. Why?"
One refugees asked me. Well, I am not sure about this. Does it happen? If you knew use the Contact Us form to tell us.
Political News will continue to open the curtain for these human comical shows.
Come join our NETWORK to be strong. Do not work alone. Use the form at the linked political site above.
You can put Political News on your favorites by pressing D+Ctrl at the same time. If you want to forward Political News to your friends, you can do that when you Forward HOA Political Scene.
Just type the URL/Web address of this page as the following https://www.home-biz-trends.com/political-news.html on the big box on the form.
In addition to the political news, you may also be interested in the following web pages on the Ezine Acts Humanitarian Network:
Child Abuse| Child Care| Child Labor| Child Love| Children Refugees| Child Safety| Child Soldiers| Child Trafficking| Displaced| Environment Protection| Green Peace| Jyllands Postens Cartoons| Street Children| UN Eritrean Political Refugees|
Share the political news with your social media services, or pin one of the Ezine Acts Pictures on this page, or at the Ezine Acts Galleries, Ezine Acts Photo Gallery and Pictures for Your Website. Thanks.
The Solo Build It tools on the image below are all combined in one place to help you learn and build political news website from your own personal experiences. You could actually build any business using these tools.
They empower political news and the entire of Khalid Osman's Network at the Ezine Act, Politics, Business and Love and update it at the Ezine Act Blog.

---
Blogging for Pleasure
|
Business Strategies Cat.
|
Collective Consulting Services
|
Comments
|
Digital and Video Products
|
Email Marketing Media
|
Ezine Act
|
Ezine Act Articles Index
|
Ezine Acts Art and Culture
|
Ezine Acts Articles
|
Ezine Acts Articles Section
|
Ezine Acts Art Links
|
Ezine Acts Associate Programs
|
Ezine Acts Biz Marketing
|
Ezine Acts Business
|
Ezine Acts Business Financing
|
Ezine Acts Business Forums
|
Ezine Acts Business Publicity
|
Ezine Acts Comment C2 Entries
|
Ezine Acts Comments
|
Ezine Acts Discussion Board
|
Ezine Acts Fine Arts
|
Ezine Acts Forums
|
Ezine Acts Galleries
|
Ezine Acts Game Site
|
Ezine Acts Home Business
|
Ezine Acts Inspirational Articles
|
Ezine Acts Inspirational Sites
|
Ezine Acts Internet Marketing
|
Ezine Acts Literature
|
Ezine Acts Love Commentaries
|
Ezine Acts Love Entries
|
Ezine Acts Love Stories
|
Ezine Acts Motivational Articles
|
Ezine Acts Motivational Sites
|
Ezine Acts Newsletters
|
Ezine Acts Offline Businesses
|
Ezine Acts Photo Gallery
|
Ezine Acts Political Section
|
Ezine Acts Sentimental Stories
|
Ezine Acts Traffic Converter
|
Ezine Acts Web Security
|
Ezine Acts Website Maps
|
Ezine Arabic Articles
|
Ezine Articles
|
Ezines Site Maps
|
Free Website Traffic
|
French Paintings
|
Home Based Business
|
Inspirations and Motivations
|
Love
|
Love Consulting Services
|
Online Free Consulting
|
SBI Discussion Board
|
Small Business Consultancy
|
Submit Articles
|
Submit Ezine Articles
|
WBM
|
Wise Biz Marketing
|
Wise Biz Newsletter
|
Zines Commentaries
|